Having a website is a crucial part of operating a small business. A website allows you to have a better chance of putting your business on the map and reaching out to new customers. Fortunately, it's now easier than ever to create your own website without any technical skills, thanks to content management systems like WordPress.
In this article, I'm going to show you the steps you should take to start a website for your small business with WordPress. Let's get started!
Step 1. Pick a Hosting Service and a Domain Name
First, get web hosting. This is where all your website data will be stored.
When choosing a hosting service and plan, take into account your technical skills and website's needs. If you're new to website management and you anticipate moderate traffic, start with a shared hosting plan. If you need more resources to support the site's growth and have some technical knowledge consider VPS hosting.
Either way, be sure to research different types and plans available before making your decision. Additionally, check if the providers offer one-click WordPress installation for easier setup and a quick start for your site.
Next, get a domain name. Most owners would use the name of their business. However, considering that there are millions of registered domains out there, there's a chance your business name might be taken. Should that happen, you should use a blog name generator to brainstorm some ideas. The article about Blog Name Generators: 10 Best Options Compared will help you find the right tool for the job.
When you've found the perfect domain name, check for its availability before registering it. Finish setting up your hosting account and domain name to move on to the next step.
Step 2. Install WordPress
To install WordPress, look for the Auto-Installer on your hosting account's control panel. Use the integrated search function to find the WordPress auto-installer, or use the file manager to install WordPress manually.
After the content management system is installed type in the administrator username, password, and email, select your preferred language, website title, and tagline. Click Install and log in to your new WordPress site's dashboard.
Step 3. Build Your Website
Time to create your website! Follow these steps to get started:
Set Up the Main Pages
The pages you need depends on the website's purpose and business type. Generally, your website should have a homepage, an about page, a products or services page, and a contact page.
The homepage functions as a hub for your visitors to explore your website. Thus, it should feature a clear navigation menu and a call-to-action button that prompts users to check out other pages, sign up for a newsletter or to learn more about your business or product.
Additionally, it should include brief information on what your business is about and why people should care. Feature some appealing copy, images, and testimonials to strengthen your case.
Explain your business further in the about page. Showcase the business's background, key members, mission statement, and other relevant information the visitors should know as well. Don't be afraid to show your passion and personality.
The products or services page should provide details about what you offer. Depending on the type of business, the page could lead to an online store, catalog, or a booking page. Determine which format suits your needs better.
The contact page is where visitors can reach out to you. Insert your business' contact details and add a contact form that allows them to email you.
Create more pages should you need them. Some websites might feature an FAQ, career, or portfolio page. You might also want to add a blog page as an online marketing strategy.
Design the Appearance
When customizing the appearance, make sure the website represents your brand. If you already have existing branding materials, use the same colors, typography, and other visual elements from those materials on your website. This way, your site will be easier to recognize and associated with your brand.
The easiest way to design your website is by choosing a theme. Hot Themes provides various options that can suit different businesses.
If you need a professional business website layout, use the Hot Business Theme. It comes with pre-made pages and three attractive homepage options.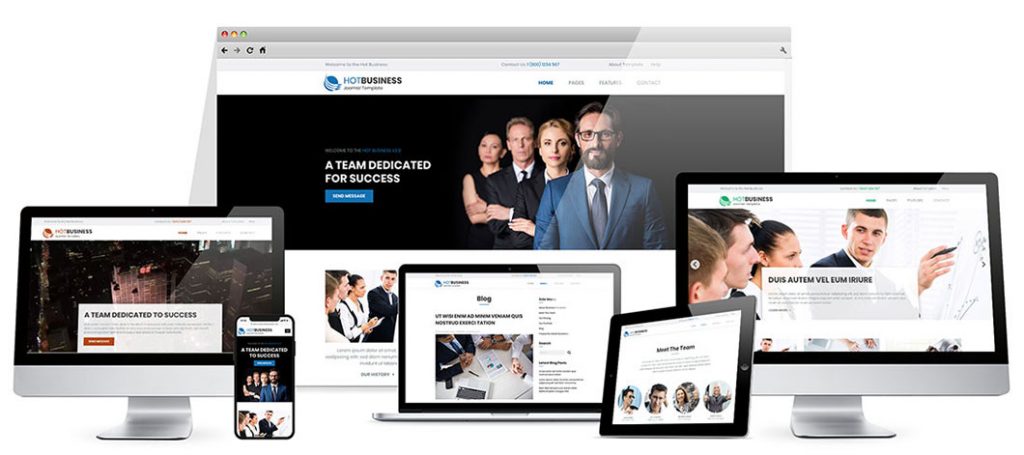 There are also other options available for other types of businesses, like architecture, beauty, and travel agencies. Whichever theme you choose, it should satisfy your needs and communicate your business well.
Add Some Functionality
To extend your WordPress site's functionality install some plugins. What your website needs will dictate what plugins to choose.
For instance, if you need to process online payments, you can add an ecommerce or payment gateway plugin, like Stripe. Or, if you need to manage appointments, you'll have to install a booking plugin, such as Bookly.
Plugins are also useful for improving your website's performance, which we will explain in the next step.
Step 4. Optimize Your Website's Performance
Your website's nearly ready! Before publishing, check your website for the following factors:
Speed – the faster your page loads, the more likely your user will stay on your site. Additionally, speed is a major ranking factor in Google's ranking algorithm.
SEO – following best SEO practices can get your website to rank higher on search engines.
Responsiveness – a mobile-friendly website makes for a better user experience and expands your reach.
Security – make sure your website is not vulnerable or prone to external threats, and that yours and your visitors' data is safe.
Conversion – see if your website prompts users to do business with you.
User-friendliness – ensure that your website is easy to use and navigate.
Conduct usability tests to identify your website's strengths and weaknesses. If you find that your website still lacks finishing touches in some of the areas, there are plugins and tools to help you out.
For instance, you can use JetPack to improve site speed and security. Or, consider Optin Monster to boost conversions. You can also use online tools like Google Analytics to keep track of your website's performance.
Final Thoughts
As you can see, creating a website for your small business is a simple process. However, don't forget to maintain your website once it's live – make sure to regularly update, backup, and optimize it.
I hope this article has been helpful to you. Good luck!