A collection of 21 beautifully designed, responsive, and premium WordPress themes. It's time to heat your WordPress site with one of our page templates for business. Browse SEO-friendly premium themes from the wide selection of our professional designs or download them all with a club membership.
Block Themes
Full site editing (FSE) is a new WordPress feature that lets you edit your website visually from the WordPress Site Editor. Third-party plugins or page builders that are bloating your website are not necessary anymore. This is the future of WordPress as FSE lets you visually define your front page, page templates, archives, posts, etc.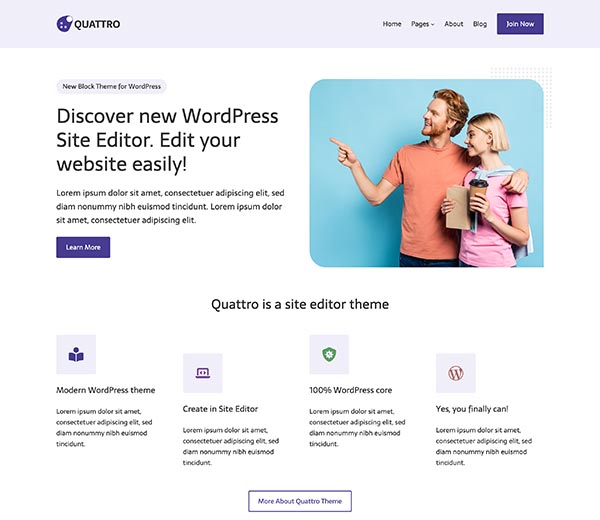 Quattro
Quattro is a clean and responsive WordPress block theme developed for the new Site Editor. It's bundled with front page and inner page templates, header and footer template parts, 14 block patterns, and 5 color styles.
This theme allows you to explore new features of WordPress and create websites visually without coding.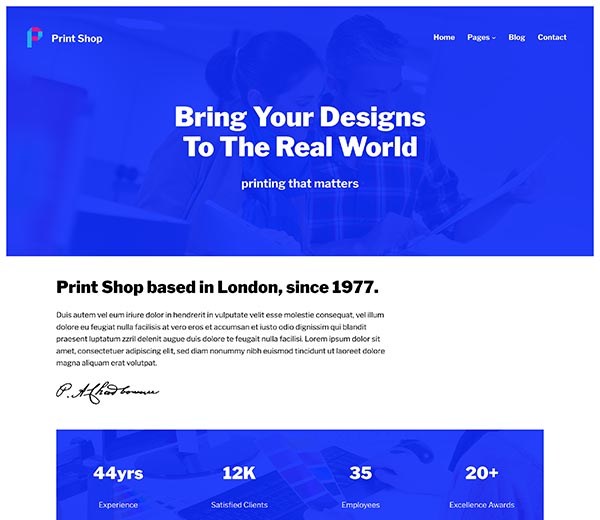 Print Shop
Print Shop is a responsive full site editing WordPress theme dedicated to print shops, online and offline design studios, pressrooms, and printing factories. This theme has a color scheme with deep blue and pinkish-red as the primary and secondary colors with strong contrasts.
This theme comes with a front page template, block patterns library, header and footer template parts, and more.
Themes Optimized for Block Editor (Gutenberg)
The block editor is a part of WordPress now. Therefore, to edit the demo content of the themes below you don't need any additional plugins.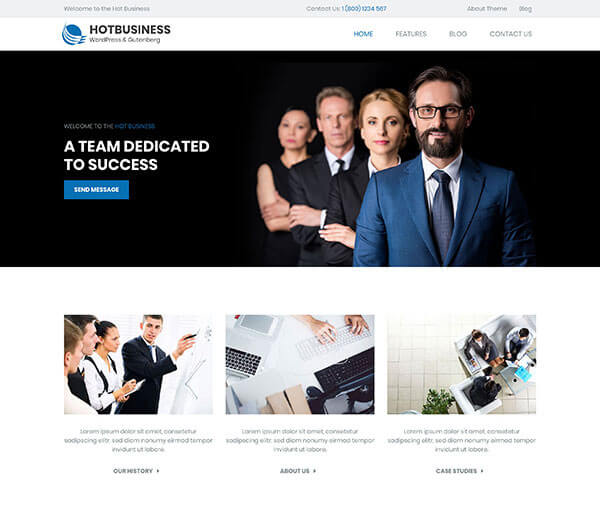 Business
A theme for any kind of business website with 3 home page variants. It's a responsive, SEO-ready WordPress theme, and fully compatible with block editor.
All content that you see on our demo can be edited simply using the WordPress blocks editor.
Golf
There are popular designs for golf, however, this theme has an unusual and interesting layout. It's fully compatible with WordPress customizer and ready for the new Gutenberg editor.
The home page includes a big carousel with images and text. It's a good entrance to the inner site pages and an ideal place to put your best images.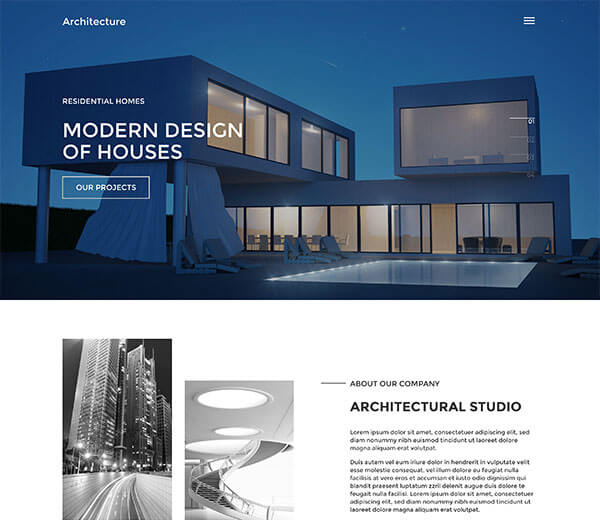 Architecture
A theme for the development of websites related to architecture, architectural firms, contractors, and construction companies. It's fully responsive, optimized for mobile devices, and compatible with the Gutenberg editor.
There are several page templates included with this popular retina-ready WordPress theme. You can create your Team, Pricing, Portfolio, FAQ, and other pages without additional effort.
App
Develop a site for a software company or promote an application easily using this block editor-friendly theme. The App theme is compatible with the new Gutenberg editor. Future-proof your website with the Hot App theme.
Each application requires a dedicated website that explains the app's features and why users should have this app in their collections.
Blankie
This is a clean theme based on minimal design, fully responsive, SEO optimized, and mobile-friendly. It's based on a neutral design and comes in several color schemes.
We are proudly presenting a theme based on the Sparky Framework which uses a new block editor (codenamed Gutenberg) in all posts and pages.
Theme Optimized for Elementor Page Builder
The following theme's demo content is created using the Elementor page builder (free version). It's a popular plugin that allows you to create and edit your content pages easier.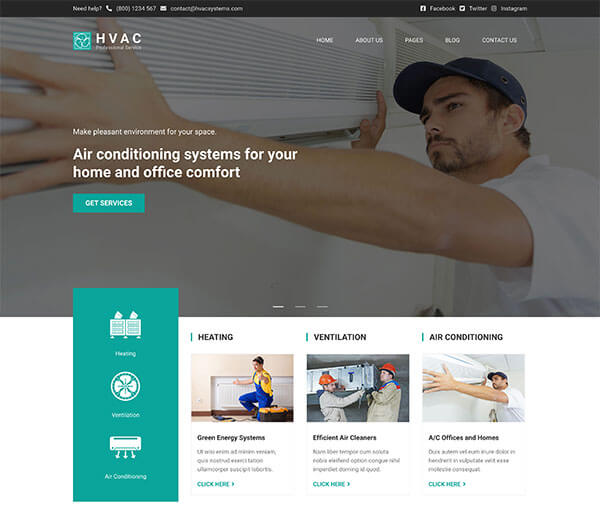 HVAC
A theme for companies related to heating, ventilation, and A/C. You can edit its content easily using the Elementor page builder.
The home page slideshow is created using the Smart Slider plugin. This is also a popular free plugin that you can use to edit our demo slides visually. A collection of all necessary page templates is included.
Responsive WordPress Themes
Academy
The theme is suitable for academic and educational websites for schools, universities, and other institutions. Such institutions are mainly schools and universities.
However, with slight changes, this theme could be used for any kind of business website.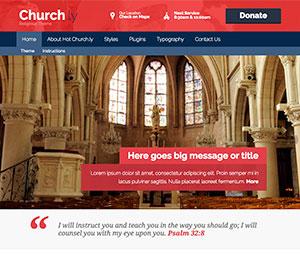 Church.ly
The Church.ly theme is dedicated to religious communities. This mobile-friendly theme can help you to make a website for a church.
Besides live communication, a church communicates with its believers via the Internet through a community website or social networks.
Clinic
This theme is a solid tool for making medical websites. You can use it to develop a website for a doctor, clinic, or medical institution.
Using this theme, you can also develop websites for companies that offer medical services, sites about healthy living, and all related subjects.
Corporate
A responsive business theme based on a clean corporate design. It's a multipurpose popular WordPress theme for companies of various types.
The corporate theme can be used for the development of business websites. You can also use it for any other purpose, so we can say this is a multipurpose theme. You can use it for any business website as it's SEO friendly.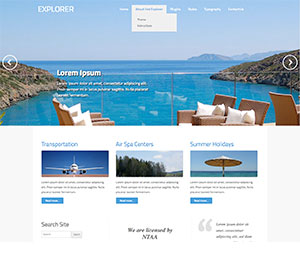 Explorer
A good choice for WordPress sites for travel agencies as well as travel blogs. It's based on a clean, modern, and eye-pleasant design and SEO-friendly code.
Besides that, it's full of features and add-ons. A responsive slideshow plugin dominates the home page.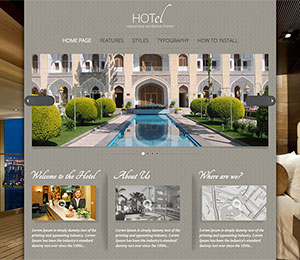 Hotel
The Hotel is a responsive theme that will help to present your hotel, guest house, or accommodation to the world. World travelers will not choose your hotel if it is not well presented on the Internet.
You can use your website to present your hotel to your guests before they come. Let them learn all the advantages of your place and let them find you easier.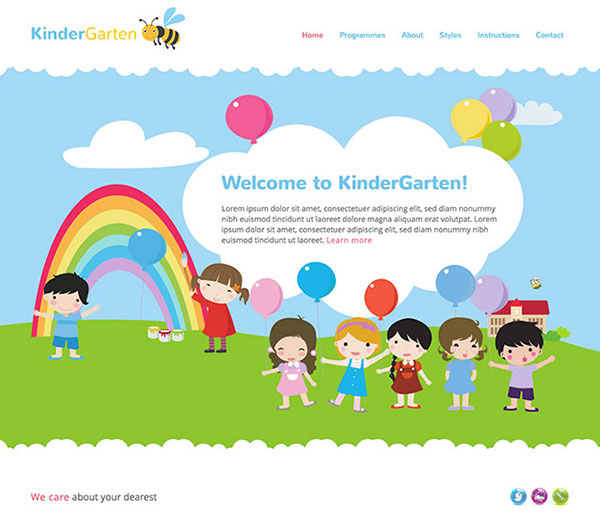 Kindergarten
The Kindergarten theme has an animated home page made in CSS3. A very funny design for all the service providers that work for kids.
There are also draws of rainbows and animated flying bees. It's a good way to give the first impression to all site visitors.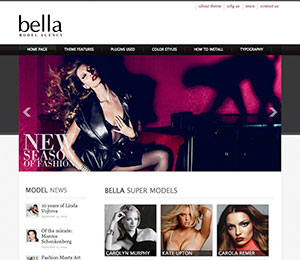 Model Agency
This theme is suitable for showing profiles of female and male models. This theme is also suitable for other kinds of websites that require pages for member profiles (agencies, teams, clubs, associations, societies, etc.).
It's fully responsive and mobile-friendly. The theme supports the use of WordPress custom fields, so you can create an overview of your models (or any other items) very easily.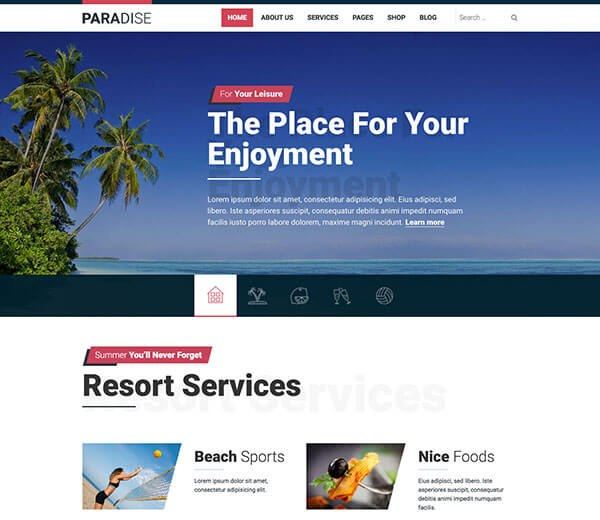 Paradise
This travel theme is a paradise of many cool features! You can edit the content with Visual Composer. Also, you can create ultimate slideshows with the Revolution Slider plugin.
This theme is a paradise of many cool features! You can modify the theme layout using the Layout Builder of the Sparky Framework.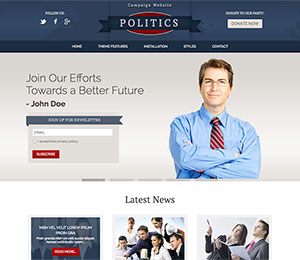 Politics
There's no better way to show political ideas and find voters than using this responsive WP theme. During the election campaigns, every political party boosts its online activities.
We believe this political theme can be an appropriate tool for the development of any political website or portal.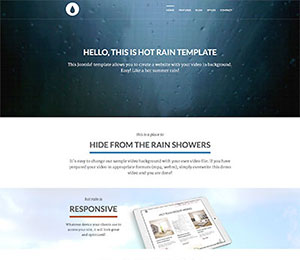 Rain
Videos become popular in web design. The Rain is a responsive theme with a video background. It's popular among companies that do video production.
This theme is designed in the form of a long page but is still optimized for SEO. There are a bunch of various elements published on the home page.
Wedding
A WP theme that can be used for websites that celebrate weddings. It's also suitable for those who provide wedding organizations and services.
Many people consider the wedding day as one of the most important days in life. This theme can be used for websites that announce wedding celebrations.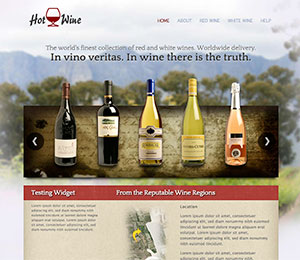 Wine
It puts the products in focus. In this case, the products are the bottles of wine in an endless carousel. Using the Carousel plugin, you can rotate the images of the product bottles and link them to separate product pages.
Both large and small wineries need websites. So, you should stay sober-minded and focus on your business.
The Hot Themes Collection
There are plenty of free WordPress themes available online. What are the advantages of using our themes instead? Well, our WordPress themes are responsive, SEO optimized, very customizable with theme options, and based on a powerful framework. Our themes are independent of 3rd party page builders. Therefore, they are fully compatible with the new Gutenberg editor which is a part of WordPress core!