Wellness WordPress theme is designed to support the development of sites about healthy life, food, and lifestyle. It could be used for websites about medicine and alternative medicine.
This theme is a good choice for massage studio and spa center websites. Wellness WordPress theme has 4 style variations with different colors and images. You have the ability to change almost every color (font and background) in the theme's options.
This is a vivid theme with living colors and without straight rigid lines. To develop such a theme, we used the latest web techniques such as CSS3 (rounded corners and dynamic gradients) and jQuery. The central place of the home page is reserved for Hot Accordion plugin (included with Wellness WordPress theme). You can use this plugin to put the most important or the latest information related to your business. The images of the green apple and the chamomile tree can be replaced if necessary.
Theme has table-less code, no inline styles, 100% CSS based, validates with XHTML 1.0 transitional standards. Widths of the left and right column and the main body are flexible. In the theme's options, you can select widths of each column, as well as the overall theme's width. There are 3 different styles for the left and the right column widgets. Hot Mega Menu and classic drop-down menu systems are built-in the Wellness WordPress theme. You can select between custom and web-safe fonts in the theme options. Wellness is CSS3 powered – rounded edges and dynamic gradients are compatible with all browsers (including IE7+). Reflection script and Font Resize script (based on jQuery) are incorporated in the Hot Wellness.
Wellness WordPress Theme Features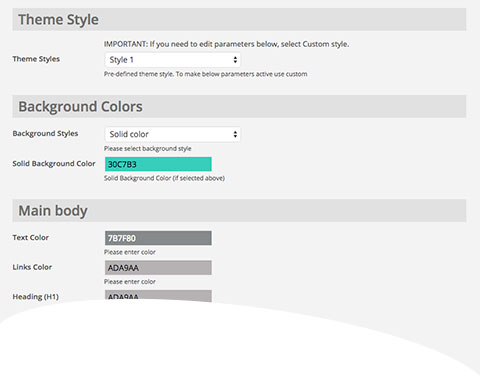 Well parametrized theme
All parameters available in this theme are located on a dedicated page of your WordPress Dashboard. You can access it from Appearance > Theme Options. Each theme has a different set of options related to font and background colors, widths of the elements and features that can be enabled or disabled. From the Theme Options panel, you can select the active color style of the theme or create your own color combination.
Demo Installer
This theme is shipped with demo data. If you follow our simple instructions and install the theme with demo data, you will get a pixel-perfect copy of our demo site.
Always Up To Date
All themes found on this site are tested thoroughly using the latest WordPress version. Any discovered incompatibility issues will be fixed as soon as possible.
Support That Cares
Our products are well-documented, but if you run into the problems with theme installation or usage, simply post your question and our support staff will help.
Valid HTML and CSS
This theme is based on a clean and valid HTML and CSS code. We tested it using the W3C validation tool to make sure it's 100% free of errors.
Photoshop Files
This theme is shipped with PSD files and fonts. If you need to modify our design or any part of the theme, it can be done in Photoshop, using the source files.
Easier Localization
This theme is shipped with sets of .mo and .po files that can be used to translate the theme. Also, the theme works with RTL languages.
Plugins Included
All the plugins that you can see on the demo are included in the price. If you install the theme with demo data, all plugins will be installed as well.
28 Widget Positions
This theme contains a lot of positions where you can place your WordPress widgets. The detailed "map" of all widget positions is available from the theme options panel.
Top Menu
This theme has integrated the top menu script with support for multiple levels. Sub levels are displayed as drop-down panes. The menu script is based on jQuery.
Font Awesome
Support for Font Awesome collection of icons is incorporated in this theme. You can use the most popular vector icons collection for your projects.