If you're searching for an SEO checklist to make you better your site's organic traffic and Google ranking, you've come to the right place. To help you achieve SEO success in 2021, we've put together the best checklist.
You may have chosen WordPress as your webpage CMS because you've heard it's SEO-friendly right out of the box.
That isn't to say that launching a WordPress website is sufficient to achieve first-page rankings in search engines. You must still be aware of the best SEO strategies to employ and put them into action.
Our top WordPress SEO tips are listed below to help you optimize your website and achieve SEO success.
WordPress SEO
Although there's no doubt that WordPress saves time and makes it easier to follow best practices without any prior knowledge, you must realize that ranking your website on Google requires commitment.
The fact that you're using WordPress doesn't mean your SEO strategies will shift. You'll still need to produce quality content, earn good links, and make sure that your content is well-optimized and free of technical issues.
Checklist to Follow For WordPress SEO In 2021
Until you start learning how to optimize your WordPress platform better and create can get your organic traffic. There are a few things you should know to ensure that you're starting on a solid foundation.
1. Hosting Provider
Be sure a reputable company hosts your site — site speed, uptime, and security are essential factors to consider when selecting a host. Don't be tempted to go for the cheaper alternative, and you'll be more likely to have problems with results. If you're not sure where to go, WordPress recommends hosting services.
2. Site speed
Make sure you review the website's loading speed as part of your on-page SEO checklist. Another factor that Google has identified as a ranking factor is site pace.
And it's not just termed, but it also shows that site speed experimentally closely correlates with search engine location. While some recent sources claim otherwise, there are several different viewpoints these days.
On the other hand, page loading speed determines by user experience and conversions. A swift website provides a positive user interface, which leads to more conversions.
Since site speed is such a significant consideration, Google Search Console has developed a new tool that identifies which sites are "weak" on mobile.
3. Copyright-free content
Unique content is needed if you want to rank in Google. As a result, content is now a critical component of every SEO approach in the modern era. Your primary focus should be on plagiarism-free content if you want to rank on search engines in 2021.
Always write engaging and unique content for your website and proofread it. Furthermore, to check whether your content is free from plagiarism or not, you can also use the freely available online plagiarism checker. There are various free plagiarism tools available on the internet. 
4. WordPress SEO Plugin
You must first install an SEO plugin before you can begin optimizing your site. Fortunately, two critical choices recommend by WordPress, and both are free to install:
SEO by Yoast
SEO All-in-One Pack
Please keep in mind that a plugin will not customize the platform for you; instead, it will make it easy for you to follow best practices.
5. Search Engine Visibility
WordPress allows you to 'prevent search engines from indexing the content, effectively preventing it from ranking. It is a widespread technique used by developers to prevent a web from being indexed when it is still under construction.
This block is more popular than you would think to leave in place after launch. Under Configuration > Reading, look at your site's visibility settings. At the bottom of the list, there is a checkbox that says: Search engine visibility.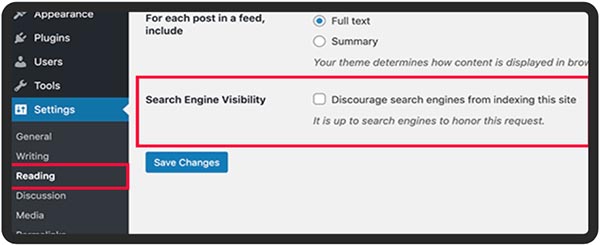 You must untick this box if it is selected.
6. Keyword
You won't know which search keywords to optimize your site's content until you conduct a keyword study. In reality, keyword analysis should be the first step in any SEO project, as it will help you plan your site's content and on-page optimization. In terms of search engine optimization, the first paragraph is the most critical aspect of the post's material. Please attempt to use the primary keyword in the first line.
7. Internal Linking
Internal linking can help create topical relevancy between various pages on your web. Moreover, transfer authority gained by external links, and allow users to navigate more efficiently. WordPress makes it very easy to add internal connections to other sites. Select the text you wish to connect to and press the 'link' button on the toolbar, which will allow you to paste a URL or browse for pages on your blog.
8. Image Alt Text
Images also make a post more readable, resulting in a more extended dwell period and a lower bounce rate.
However, when it comes to photos, Google has no idea what's on them until you say them specifically. Using a brief 6-8 word explanation of what's in the frame and using a keyword whenever it makes sense is a good idea.
9. Schema Markup
Schema markup will help you boost your SEO activities by giving sense to your content and performance. It aids Google in comprehending the material and presenting it in various helpful ways, enhancing the searcher's experience.
Simply put, adding meaning to the sites increases the likelihood of ranking higher and receiving clicks as your website receives impressions.
10. Make Your Site Mobile Friendly
For all of them, the smartphone is the chosen method of accessing the internet. Even if it isn't the most desired method, mobile devices will account for a large portion of your traffic. As a result, if the content is also not mobile-friendly, you're missing out on many opportunities and isolating a large part of your audience. Not just that, but Google has stated that mobile-optimized pages prefer over non-optimized sites.
11. Use Google Analytics
Google Analytics is a platform that provides you with raw statistical data about your site, its traffic, and the countries from which your guests come. It allows you to focus your efforts on more profitable SEO possibilities in your niche.
It's one of the most valuable methods for optimizing your WordPress pages. It's not just that, but it's still totally accessible. It's also easy to sign up. Google walks you through the whole procedure step by step.
Conclusion
WordPress is undoubtedly one of the most SEO-friendly CMSs available, which is one reason for its popularity. If you're using WordPress, you've made a wise decision. You'll be in a perfect place to outrank your rivals if you take the above mention steps.