Something new is always attention-grabbing and inspiring, especially if it relates to web design issues. WordPress 5.0 was one of the most awaited releases of the past year. A huge WordPress community has waited for the fresh-faced block-based editor – Gutenberg. What is it? It's an absolutely new approach in content creating within the popular CMS. It's a radical leap forward allowing WordPressers to keep up with the times.
Gutenberg Is Worth Your Attention because…
It's easy, comfortable, innovative, and developed especially for WP and WordPress themes. Many users can face some problems with utilizing the new editor, but all of them can be easily and quickly solved. Nothing to worry about! Gutenberg differs radically from its predecessors. The new editor consists of two tabs: Document (this tab includes most features needed for managing categories, publishing posts, and uploading images, and many more) and Block (this is the new parameter which presents predefined templates suitable for configuring different blocks in the post).
As for other helpful features providing advanced user experience, there are some of them:
WYSIWYG interface allowing to see the end result of content creating. It means that with the new editor, a WordPresser always knows exactly what he does and what he will look after publishing. It's very comfortable, isn't it?
Nothing else than relevant options appear while editing the specific block.
The Document Outline option serves as a helpful addition allowing a user to click on the headings to edit them without effort.
The ability to add anchors to blocks using the HTML Anchor field.
There are many more other additions like a number of functional blocks, tables, easy-adjustable font settings, full-width styles for images, etc. Gutenberg is a source of creativity and inspiration.
Let's Delve into WordPress 5.0 Compatible Themes…
Those who want to try innovative Gutenberg have to opt for WordPress business themes that are compatible with this editor. TemplateMonster has prepared for the much-anticipated release and updated best-selling themes. Let's have a closer look at 10 top-rated Gutenberg-friendly themes which can significantly simplify your website building process.
Monstroid2 – Elementor WordPress Theme for All Business Occasions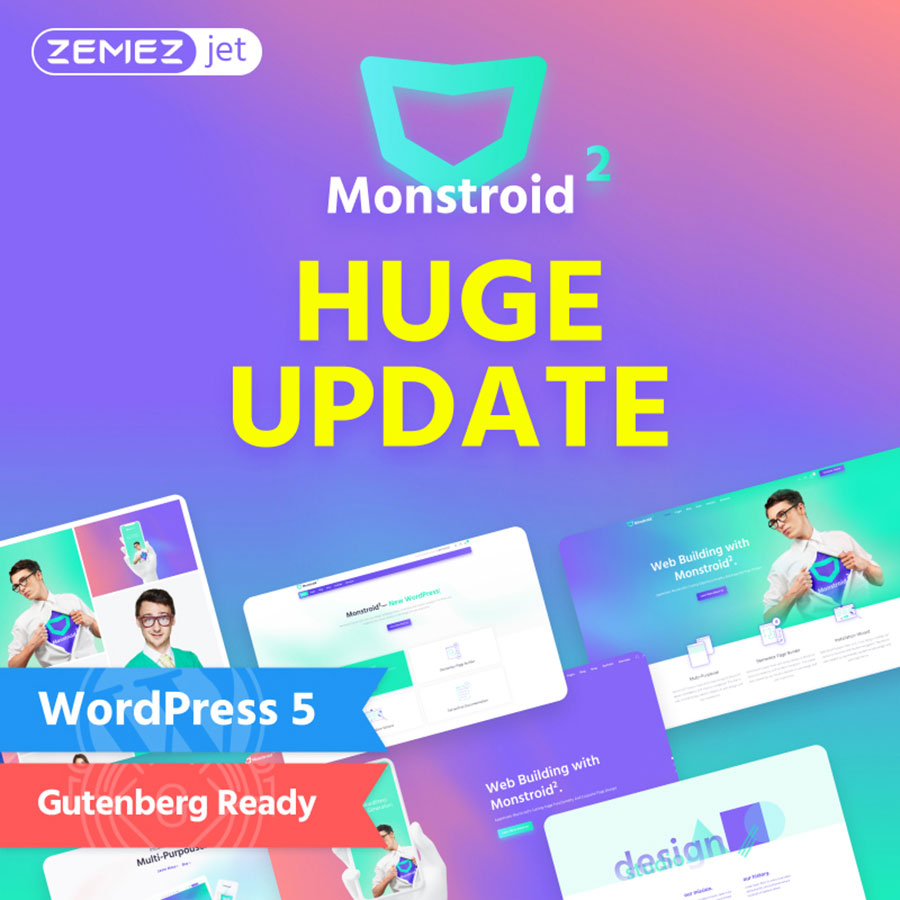 This multiuse website building solution is actually worth being used. Why? The answer to this question is crystal clear, however, let's outline at least its three undeniable benefits. Firstly, Monstroid2 fits all the possible business needs – starting from online media portals and ending with a creative user-friendly webshop. Thanks to exceptionally easy interface and functionality, this multipurpose theme serves a perfect helper for both professionals and beginners. With an intuitive content builder and multiple helpful options incorporated, anyone won't have difficulty configuring updated Monstroid2 in accordance with his personal needs.
Hayford – Gorgeous and Reliable Platform for Creating Investment/Consulting Services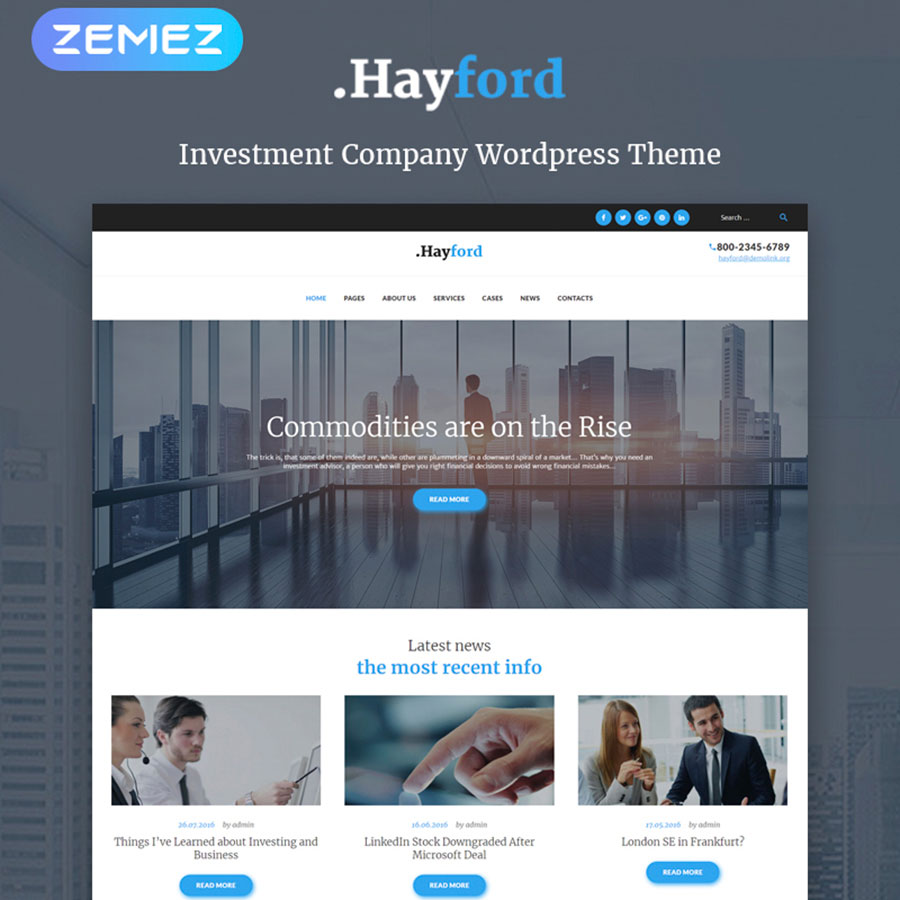 Hayford is a win-win website-creating solution for business owners who need to expand their finance business on the web. Having bought this Gutenberg-ready theme, you will achieve a pack of attractive niche-specific pages and the possibility to create any page you will need in the process of website building thanks to the helpful Elementor constructor. Moreover, the theme is fully responsive allowing you to reach as many clients as possible since your website will flow effortlessly on any modern device. Besides, in comparison with ordering custom website design, Hayford is absolutely affordable since its price is less than $100.
Globy – an Innovative Service for Running Businesses Online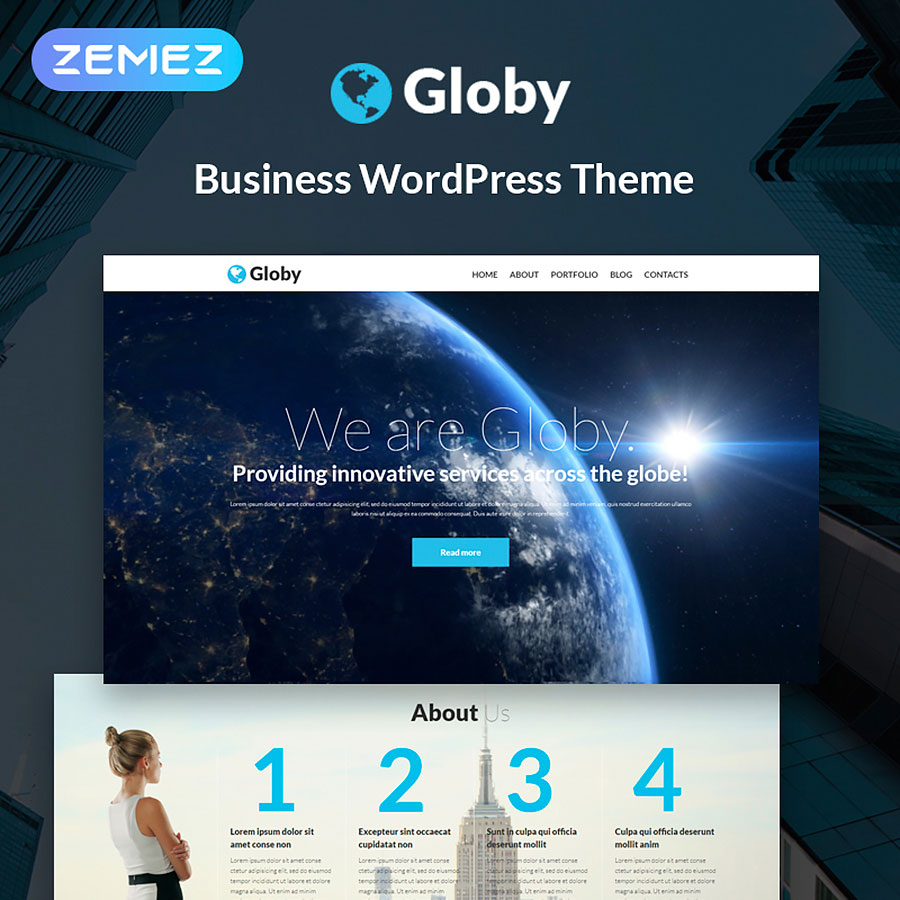 Any entrepreneur dreams of making his business global. Globy theme is aimed to make his dream come true in a very short period of time. In addition to a single-click installation, Globy boasts a fully responsive design flowing freely on any device and Gutenberg content editor incorporated allowing website owners to configure headings with ease. Additionally, they have a great chance to make use of full social integration, multiple helpful web forms, and advanced functionality throughout the layout. With an extensive set of custom page templates, it won't take a lot of time to run a user-friendly site with a smart structure and handy interface.
Ferim – High-Grade Design for Food Delivery Companies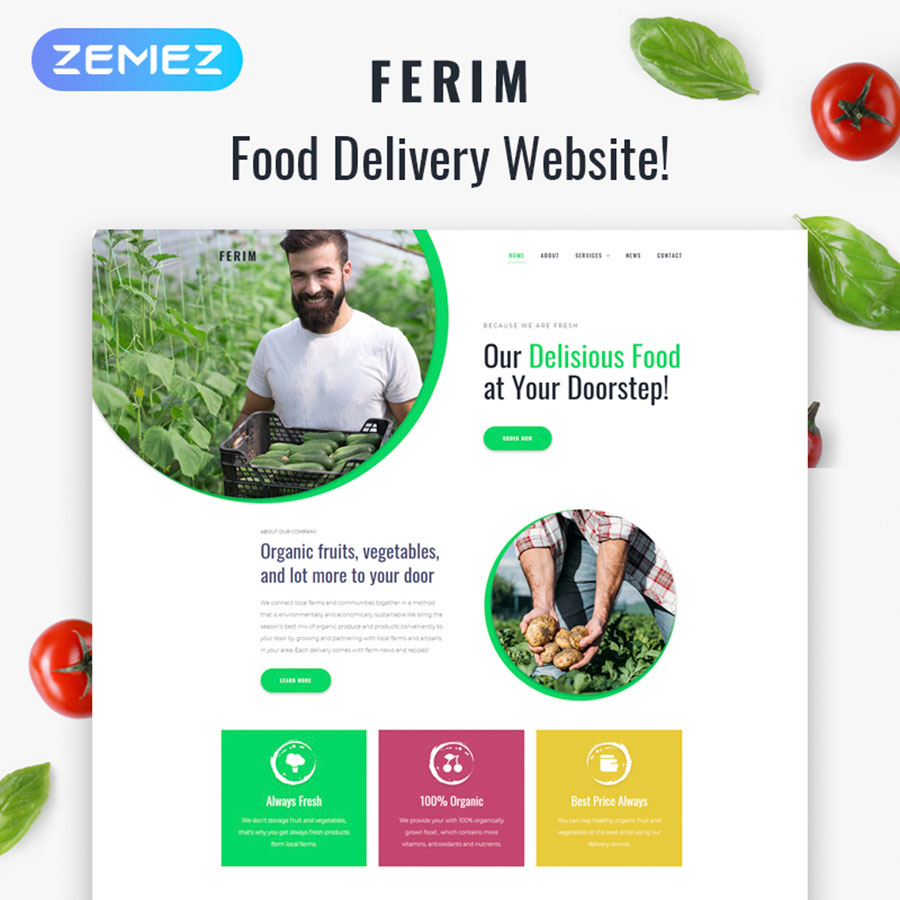 A modern food delivery business needs a powerful, trustworthy online presence to reach out to a wide audience and build a solid client database. Using Ferim theme with a visually minimalistic yet appealing design, you can be sure that your visitors will be focused on the range of items. Besides, it provides your users with a professional, robust, and incredibly fast shopping experience. If you need more specific web pages for your online service, you can opt for the drag-n-drop builder – Elementor which is equipped with a rich package of pre-designed modules.
Frutti – Multipurpose WordPress Theme Suitable for Organic Food Niche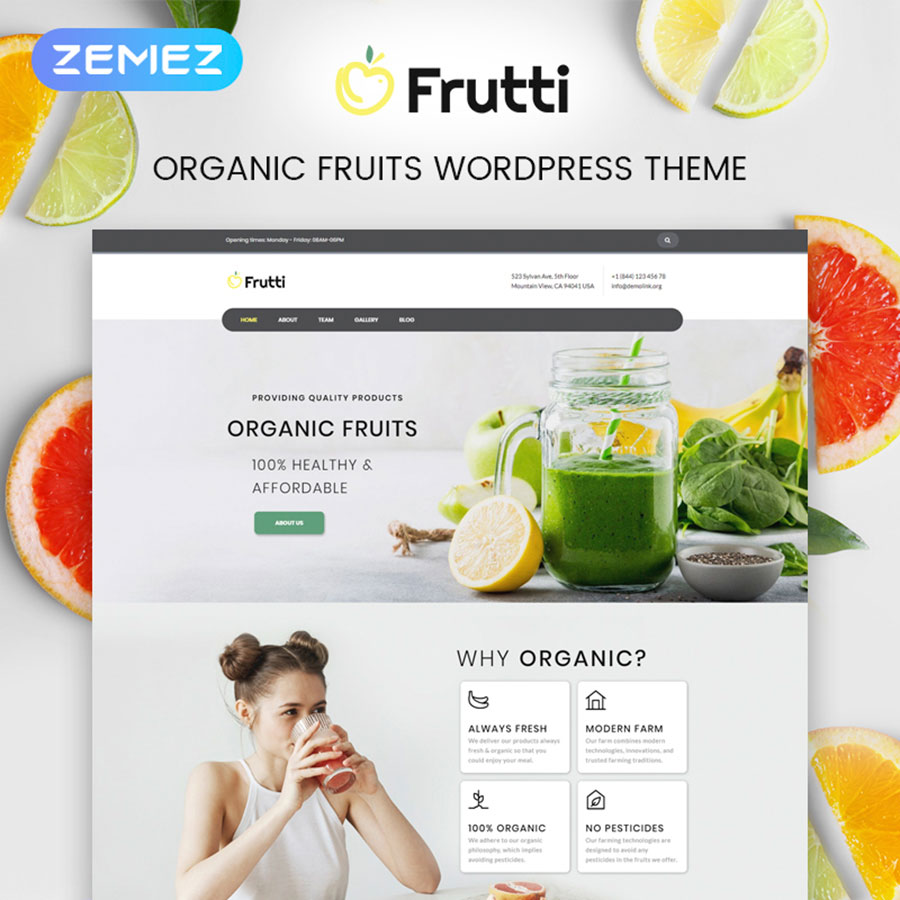 Sometimes it's hard to find a really creative yet simple service for the website building process. Thankfully, Frutti WP theme busts stereotype and prove that the mission is possible. With its clear yet all-sufficient interface, it's possible to run an effective, attentive-grabbing digital service that will grab huge organic traffic. So what do you get for only $75? Frutti features a visually appealing, smartly-structured homepage and a number of other necessary web pages catering to the needs of a fully-fledged website. Since Jet Elements plugin is included, a website owner won't have problems with enriching his site's functionality and improving its performance.
Growlex – One More Clean WordPress Theme for Consulting Services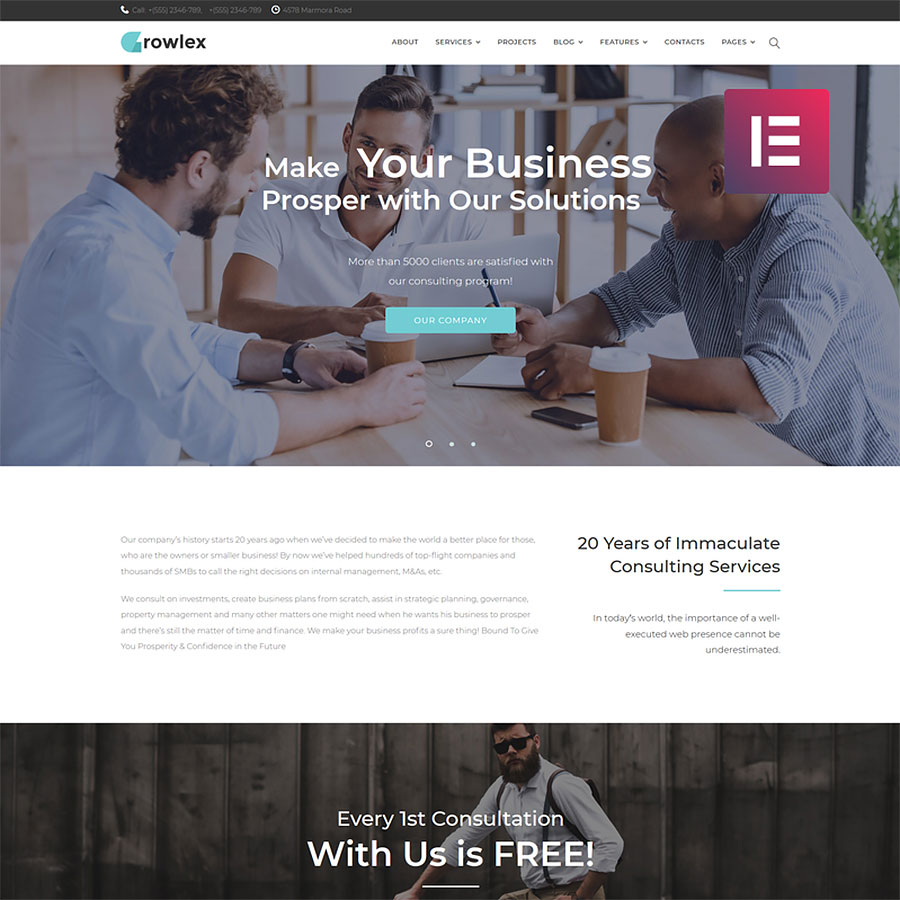 A feature-rich website is a must-have for any modern business since it serves as an effective marketing tool. The theme suits both professional webmasters and beginners because it installation, managing, and customization do not require coding skills. As the theme is easily compatible with innovative Gutenberg, creating content of any complexity will be effortless within this layout. Growlex offers a variety of footer and header styles equipped with helpful options and tools, several blog variants to fit an owner need to the full, and Mega Menu functionality to make the user experience more pleasant.
Tourizto – Gutenberg-Compatible Solution for Running a Travel Company
Tourizto combines all the core features needed for a solid website: visual attractiveness, robust functionality, and convenient user experience. That said it is absolutely clear, responsive, easy, and optimized for all the major browsers. When you unpack the theme, you will find an extended set of plugins for all occasions, the rich variety of handful widgets, and the bulk of settings that can be easily changed up to your preferences. In light of the above, the theme provides the ability to set up a modern and vivid online project which will be able to attract a wide audience to your travel business.
Constico – Smart Gutenberg-Ready Solution for a Construction Agency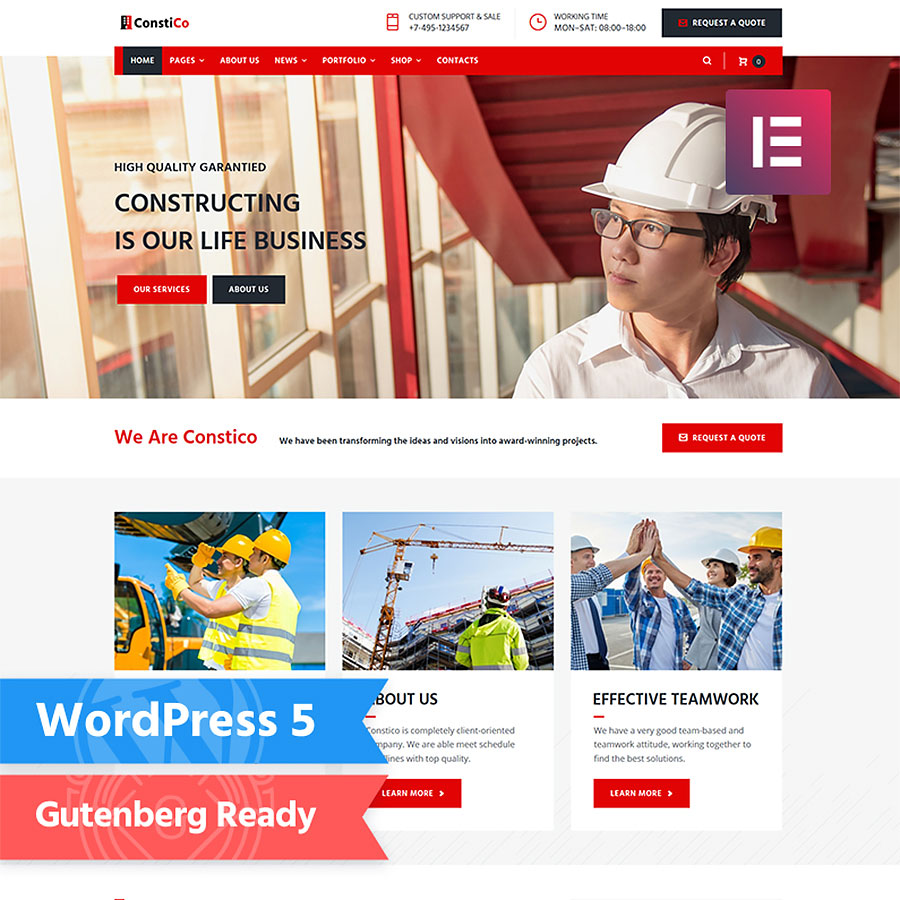 If you strive for dealing with the innovative content editor named Gutenberg when creating a web construction agency, Constico WordPress theme is a win-win choice. The theme is quick, clean and flexible to be turned into a prosperous digital service with ease. Once you've installed it with a click, you can proceed to the endless process of customization allowing you to make your dream website effortless. Moreover, the layout is Woo Commerce-compatible providing the ability to transform a simple business site to a feature-rich webshop with a smart cart solution.
Consor – Elementor-Based WordPress Theme for a Consulting Business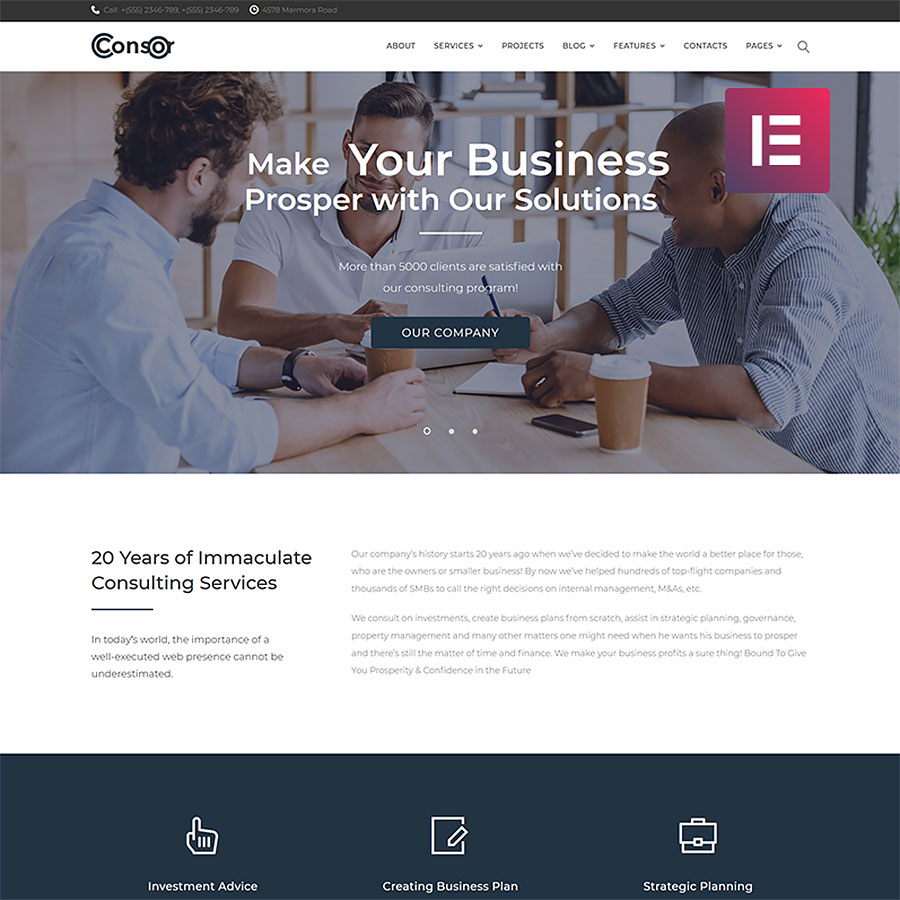 Reliability is a top-rated priority for any digital marketing agency. Consor theme has been built in accordance with the niche-specific requirements and latest web trends. Each and every element of the mockup is stylish, well-balanced, and professionally designed with the care of users. The layout has 4 different blog styles allowing a website owner to keep his clients regularly updated with the company's news and other useful posts. As the theme is completely compatible with the innovative content constructor – Gutenberg, the process of working with content won't take a lot of time or effort.
Soothery – Beautiful WordPress Solution for a SPA & Massage Salon
More and more people go to the web in search of various services and items because it's handy, fast, and can be done sitting at home. Besides, if the search relates to services, the web serves a rich source of information like reviews, testimonials, and feedback. For the reason, Soothery is an ideal platform for establishing your own digital SPA salon. It contains a rich variety of helpful options and tools to present such a business in a favorable manner. For showcasing your salon and work process, make use of galleries, sliders, and other widgets. For posting useful information, choose an appropriate blog layout. To keep your business in contact with popular social media platforms, utilize social buttons that are easily accessible throughout the site.
WordPress 5.0 has turned out to be a very tasteful thing with its innovative content builder – Gutenberg. Thanks to this handpicked collection of 10 Gutenberg-friendly themes, you can see for yourself that building a business website has become substantially easier. If you've never worked with the latest WP version before, it's high time to try it.