Our first commercial plugin is a responsive WordPress slideshow plugin – Hot Effects Rotator. This is the responsive plugin that rotates images using one (or combination) of 13 transition effects. We name it like that because it rotates images and can use one (or a combination) of 13 available transition effects.
This slideshow plugin is powered by jQuery. There are plenty of options available on the widget options page. You can enable or disable control buttons (iPhone-like dots and arrows). Dimensions of the widget are responsive and fit within any screen size. The images can be linked if needed and can have description text, but this is not mandatory.
WordPress Slideshow Plugin's Features
Select one of 13 available transition effects, including a random mode that randomizes all the effects.
You can select a number of slices (for slice-based effects only).
Control buttons (enabled or disabled) and Left/Right navigation buttons (always enabled, enabled on hover only or disabled).
An optional pause of the slideshow on hover.
Optional links for each image in the rotation (link can be opened in current or in a new window).
Optional description text for each image in the rotation. If you don't type a description, it would not be shown.
How To Use This Plugin?
Open the plugin's options page in Appearance > Widgets > Hot Effects Rotator. You'll see that some default options are present there. However, you must change some of them to accommodate widgets for your WordPress site. Here's the list of all WordPress slideshow plugin options:
Open links in a new window – If images are linked, enable this option to open links in a new window.
Left/Right navigation – Enable or disable left/right navigation arrows.
Control buttons – Enable or disable the control buttons.
Animation Speed, Pause Between Slides and other settings related to the transition effects and animation. These options define how fast or slow your slideshow will run and what effects to use.
For each image, you have 3 options:
Select or upload an image from your WordPress media manager.
Optional image description text.
Optional link for the image.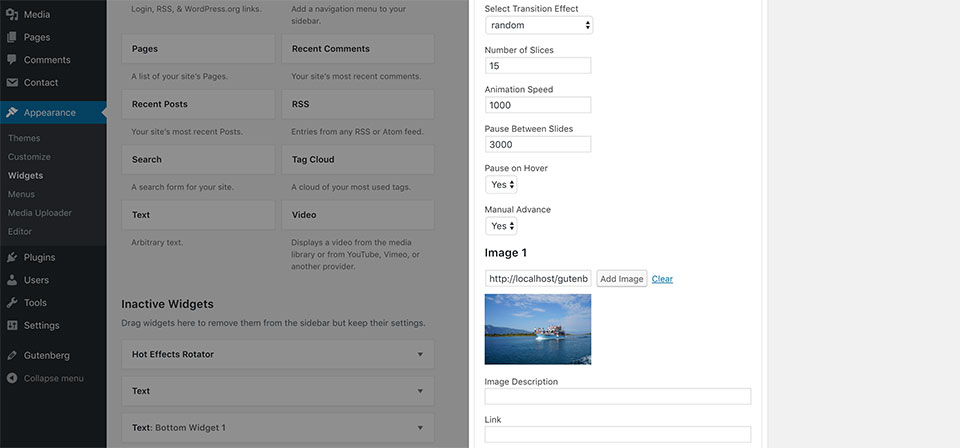 Support That Cares
Our products are well-documented, but if you run into the problems with theme installation or usage, simply post your question and our support staff will help.
Always Up To Date
All themes found on this site are tested thoroughly using the latest WordPress version. Any discovered incompatibility issues will be fixed as soon as possible.
Valid HTML and CSS
This plugin is based on clean and valid HTML and CSS code. We tested it using the W3C validation tool to make sure it's 100% free of errors.
Easier Localization
This plugin is shipped with sets of .mo and .po files that can be used to translate the theme. Also, the theme works with RTL languages.