Since its release in the last 14 years, WordPress has continued to improve with each passing day. The prominence of CMS is expanding all across the globe owing to additional functionalities, themes, and tools. Due to these advantages, WordPress has become a useful platform for businesses that wish to manage their websites on their own. Here are some WordPress trends you need to implement.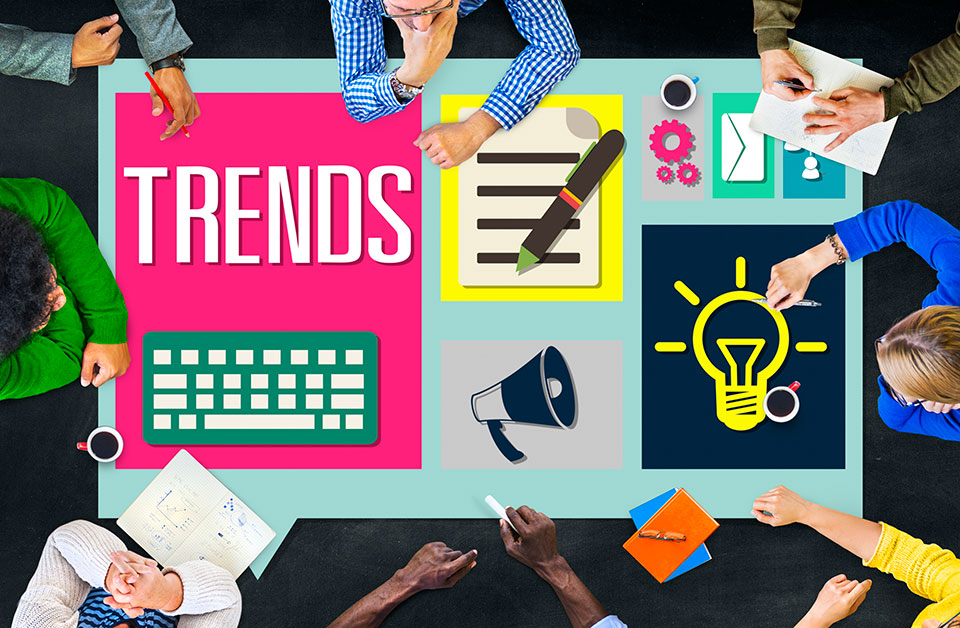 The introduction of WordPress has made website development simpler and easier even for non-technical users. People are enjoying working on WordPress and are quite satisfied with the results achieved. However, to succeed in the market using WordPress, you need to be aware of some of the latest WordPress trends that are going to be effective in the years to come.
These WordPress trends will definitely help you devise a functional store for your business.
Parallax Scrolling
The modern-day man is advanced and habitual with interactive tools. As far as the development of the website is concerned, they require everything planned stylishly. By implementing parallax scrolling, you can give users a 3D feel to the website. This feature takes interactivity on the web page to an advanced level. Also known for moving backgrounds, parallax scrolling can be added to the home page to impress the visitors. This feature multiplies user retention and engagement to the website.
Virtual Reality Themes
WordPress features a lot more multi-purpose and niche-specific themes built with a gamut of features. Using these themes, developers can create any kind of website. Similarly, VR optimized themes are also trending. VR optimized themes are closely related to gaming. It is expected that WordPress will be taking advantage of VR optimized themes to help users browse the internet via VR devices.
By making use of the WP-VR view plugin, developers can easily integrate VR functionality to their WordPress site.
Video Headers
Video headers are known for being attention-grabbing. They offer immediate exposure to a website product or service. Videos are better in illustrating the content. It is also predicted that video headers will act as the major source of traffic by 2018.
So, they will be acting better to narrate the story and add an element of appeal to the website.
Mobile-first Websites Will Dominate
The preference of mobile platforms for online shopping and browsing is constantly on the rise. Due to this reason, it has become important for businesses to adopt mobile-first websites. WordPress users also need to follow the same trend and create a website keeping mobile in mind. The use of Bootstrap is also recommended for creating layouts that go in sync with mobile design and functionality.
Usage of "FAILURE MAPPING" for an Improved User Experience
Failure mapping involves mapping out different user experiences and finding potential flaws. This can be in the form of a confusing navigation menu or CTA. Working upon such flaws will definitely improve the user experience.
Failure mapping maps out the visitor's journey and finds out potential issues for multiple personas. Using failure mapping as a trend will streamline the website for better user experience.
HTTPS and Encryption
Website security is an important concern for websites these days. Google encourages website owners to concentrate on additional security by converting their websites from HTTP to HTTPS. In the coming years, it will become necessary to have HTTPS considering the aspects of safety.
Bold Typography
Bold messages are in the trend. According to the latest trend, WordPress supports the import of fonts created in Adobe or Google fonts.
The influx of customized fonts will play a crucial role in establishing brand identity or delivering an appealing message on the homepage.
The use of large typography will also be effective in smartphone screens. This trend is catching attention and is expected to be a major highlight in WordPress web development.
Microinteractions
Microinteractions counts to be of effective use to incorporate magical components and add an element of delight and surprise. They are useful for elevating the engagement levels on the website.
In combination with the design of the page, Microinteractions make use of minimal coding to modify an element's color or adjust the shading.
Final Thoughts on WordPress Trends
Missing out on the latest WordPress trends could see you fall behind. Using these innovations, you can easily design a modern looking website with all the high-end features. It is important to stick to the latest WordPress trends to have a futuristic WordPress site for your business.
Using these trends, you will be able to deliver a website that is not only innovative but also offers an intuitive user experience.
Author Bio
Jason Larue is a blogging enthusiast and expert WordPress developer employed at PHPDevelopmentServices.com. He loves to share his knowledge on the latest WordPress theme and WordPress plugin development. In addition to this, he loves writing, traveling and exploring life. All of his write-ups are a perfect blend of knowledge and creativity.