From the time WordPress has entered the market, there is a constant battle going on the thought of utilizing a free WordPress theme over a premium WordPress theme and vice versa.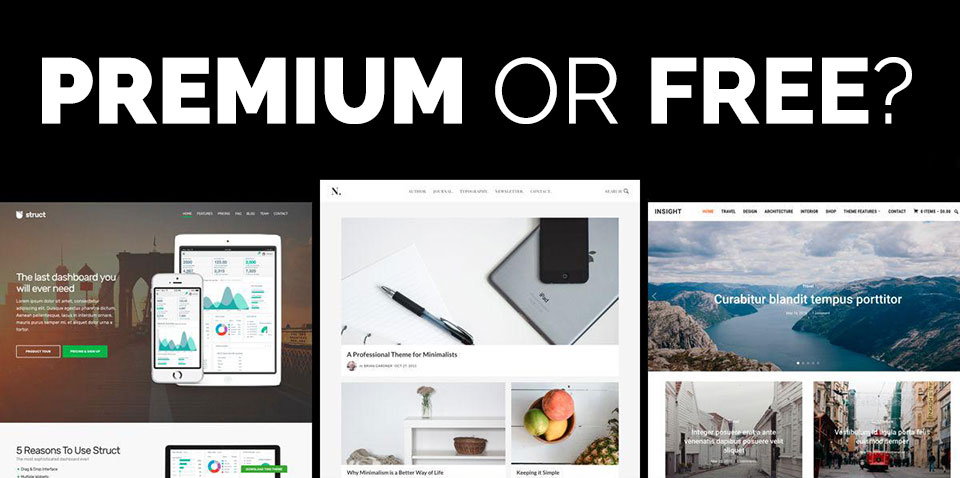 Since its commencement, WordPress has gained immense popularity among the masses. There are millions of people who are taking advantage of this open-source, self-hosted blogging platform as it is simple to use and has a large community.
These days, WordPress themes are widely being used especially by entrepreneurs who love to use a theme for having a more alluring and catchy website. Still, the question remains the same that why businesses should opt for premium business WordPress themes rather than free WordPress themes. In this article, we will discuss in detail about both free and premium WordPress themes.
Major Difference Between Free And Premium Responsive WordPress Themes
Quality of premium WordPress themes is better than free WordPress themes:
It is well said that the more money you spend the better the product will be. Premium WordPress themes are designed in a way that these differentiate your website from others. These premium responsive WordPress themes come of better quality as compared to free themes. The main reason being that the revenue these themes generate allows the developers to improve the overall quality of the themes.
Premium WordPress Themes Come With Advanced Functionality:
The biggest advantage of opting for premium WordPress themes is that they come laced with a myriad of features and functionality that are sure to take your website to new heights. Drag & drop, multiple templates, numerous color options, and shortcodes are some of the main features that come with these themes. Moreover, advanced admin panels make the customization and general site configuration easier than expected. But, when talking about free WordPress themes, you won't be offered with so many features and benefits.
Achieve a Professional Yet Elegant Look With Premium WordPress Themes:
An eye-catchy website is sure to attract the viewers to come to your site. A non-professional website is often overlooked no matter how useful and important information is posted. Thus, it is vital to enhance the appeal of the site and get the pro look in order to stay ahead in the competition. Choosing premium themes enables the users to create a unique website that their visitors will love to see and follow the relevant information. But, while using free WordPress themes, you won't get all these benefits. The reason being that the premium themes can be customized depending on your requirements and give a unique appeal to your site. But, the same is not the case with free themes.
Instant Customer Support:
All the premium responsive WordPress themes come with excellent and instant customer support. When you purchase premium themes, you get high-class customer support 24X7. Though these themes are designed in such a way that they are highly user-friendly, still if you face any kind of issue or there is any problem related to its compatibility, then you can simply contact them. They will be more than happy to assist you and solve your queries. But with free themes, you do not get any customer support.
In A Nutshell
Free WordPress themes are a good option for the newbies, but once you start getting some serious response for your hard work, then you must consider using a premium theme for enjoying rapid growth. Though free themes may save you some bucks it may also stop your development and rank you among the mediocre business owners with a very low output. But, this is not the case when using premium WordPress themes for business. You can easily create a professional and SEO friendly website without any hassle.
Author Bio
This post has been penned down by Jean Turner who is presently working as a senior WordPress theme developer at theem'on. Having expertise in WordPress, she loves to share her knowledge and skills by writing such informative and unique blogs.