If you are a music lover, selecting the WordPress platform for your website will be a wise solution with never-ending benefits that you will get. Musicians might have thought of running a website to give themselves a web presence, but they never heard of using music WordPress themes to get commercial over the internet. It is not just that you are getting a website, but you are getting a platform to express your skills to the people around you.
WordPress is turning out as a perfect choice for creating different types of blogs and websites. Its diversified themes and plugins add more beauty to your website with utmost functionalities. No matter for which domain you are working, this amazing CMS has an indefinite number of themes available for you with immense inbuilt features.
There are a range of diverse themes available that are specially meant for the music websites, and if you want to exaggerate your boundaries in the sound era, selecting the most suitable one from the below list will be a smart choice for you.
FWRD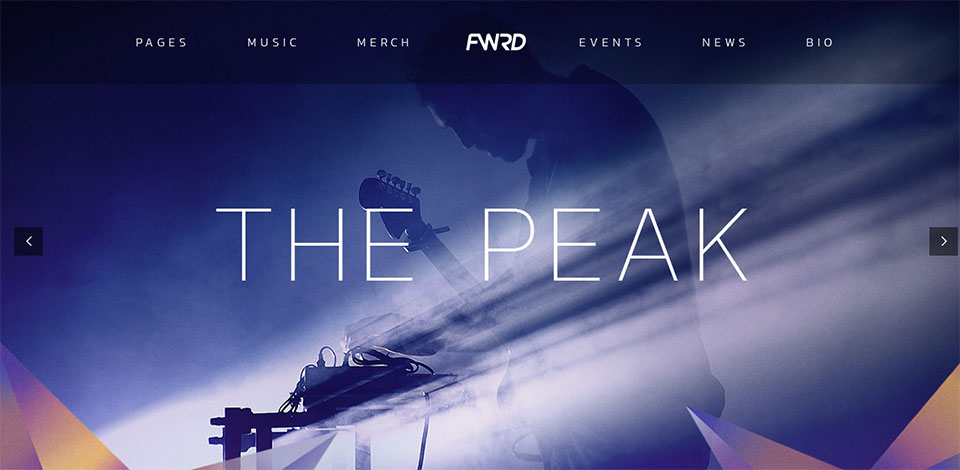 It is a stylish theme that has the feature of an online shop, to sell downloadable MP3 tracks, t-shirts, and even vinyl. With the events page in this theme, you can showcase your upcoming tours with a countdown clock. Here, you are offered with inspiring demos along with the rich layouts to make an alluring home page for your business.
Vice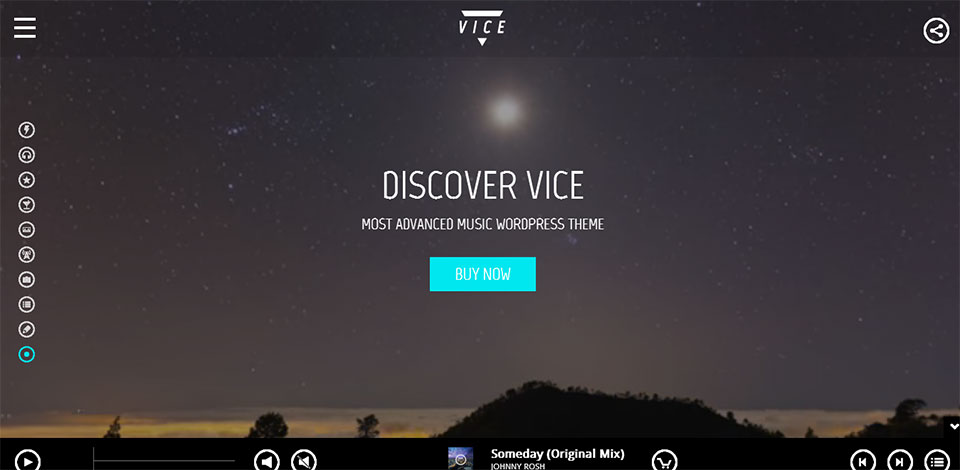 It is a fully responsive theme, which you can utilize to exhibit photos and videos of artists by using custom backgrounds. Keeping in mind that the website is meant to offer ease in music listening, this theme offers a cross-platform music player. Its motto is to allow visitors to listen to your latest album while they visit any other page of your website. Vice offers over 120 bespoke icons along with a horizontal and slide-in menu to allow flawless navigation. To deliver a full-width and one-page layout is an added advantage of using Vice.
SONIK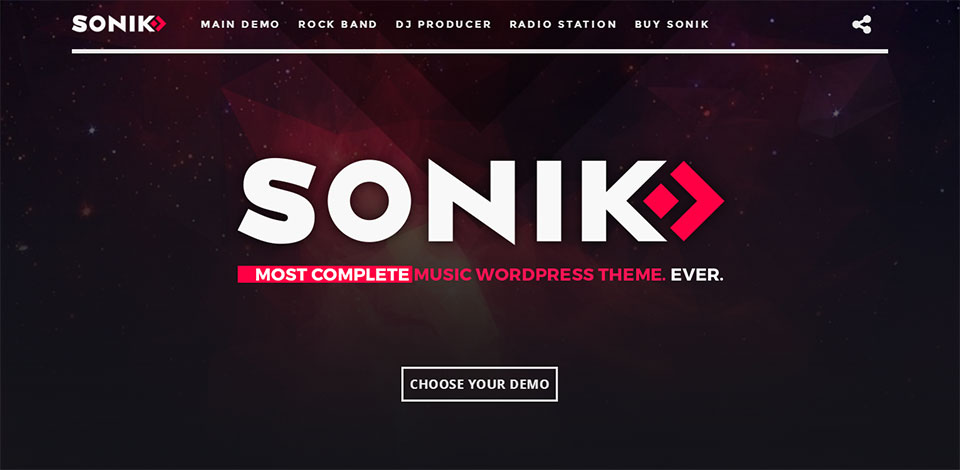 This WordPress music website theme has the innovative collection of plugins, widgets, and tools, specially meant for the music industry. It is a colorful and responsive theme for radio bands, artists and musicians. It is built on HTML5, where a unique music player has been integrated comprising of MP3 streaming features in it.
Share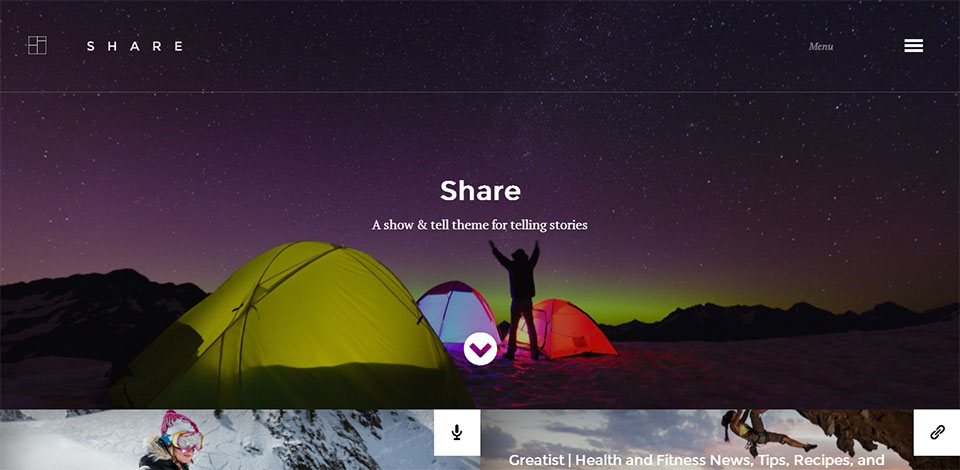 Based on the storytelling concept, this theme can be used for blogs, poetry and even image galleries to insert into your website. Opting this allows to simply portray your memorable moments that you want to share with your viewers.
Uncode
It is a youthful and fast loading multipurpose WordPress theme, using which, you can get professional-grade websites. With this theme, multimedia content can be easily handled. Precisely, sharing your musical portfolios is an easy task now.
The collection of a wide range of homepage demo templates and layout styles makes it a preferable choice for music passionate crowd.
Croma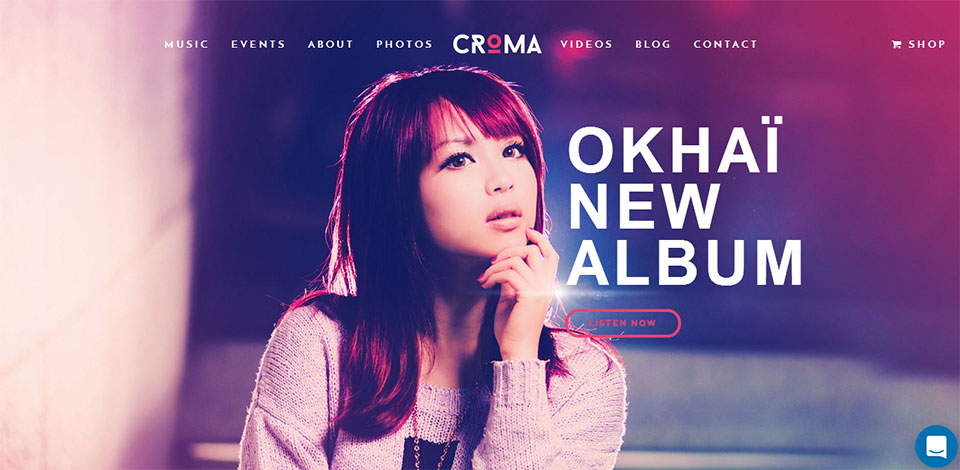 This theme offers wonderful features that a professional website must possess. It is a perfect choice for bands and musicians to generate bold musical content which their fans will love. An HTML5 based music player for better management of tracks and MP3s, customizable playlists and other necessary customization of your music website.
Vocal
With a beautiful design, this theme is the most suitable for a professional DJ. The design made with it possesses a full-screen slider, a built-in audio player, and an event manager. Here, the user is allowed to add mp3 tracks and also to link outside videos.
Conclusion
Music simply implies to have balance, clarity, and harmony. So, a music website must also reflect the same features to relate it truly with your work area, and also to reach to the music fans in the exact way which you deserve and hope. There is so much a WordPress theme has offered to its users, by comprising the indefinite plugins and themes, and the relevant features which they possess. By using the above music WordPress themes, musicians will be benefited in terms of brand name and fan following.
Author bio
David Meyer is a skilled WordPress developer, who is working with CSSChopper from the last few years in making adorable web designs. He has a great interest in writing about different themes and plugins offered by WordPress CMS, along with smart tips for best PSD to WordPress conversion service.