The home page of the Academy WordPress theme shows the Hot Full Carousel widget in a prominent place. There's also a box for calendar and search widgets above it. The post intros are divided into 3 columns. The lower part of the theme contains a section that can be used for information about website's services (About Us). The accordion that's also placed there is appropriate for several important FAQ's. The bottom part contains a widget of the new WordPress plugin by HotThemes – Hot Film Tape. This is an endless responsive carousel. It rotates slides with both images and text.
Academy WordPress theme comes with 4 predefined color styles. Although, you can create your own color combinations through the Sparky Framework's control panel. Also, from the same place, you can control the layout of the theme. This is done using drag and drop user interface built into the framework. Therefore, the customization of the theme's layout and adding or removing widget positions is straightforward.
Features of the Academy WordPress Theme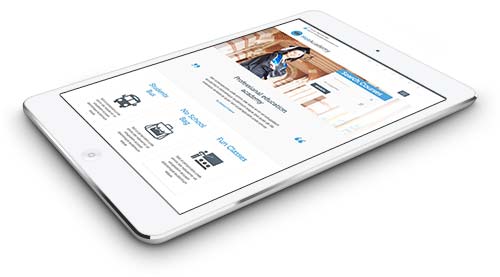 Responsive Theme
Hot Academy is a responsive WordPress theme. This means it will look good and optimized on all desktop and notebook computers, as well as mobile devices (tablets and smartphones)!
Drag and Drop Framework
Layout Builder is where you create layout for your website in few simple steps. Click "Add Row" button to make some rows. All widget positions and special elements are represented as cells. Drag some of them into the rows. Add specific name and/or class to any row to select it and style it through CSS. In the background, Sparky creates layout fully automatically according to the settings from the Layout Builder. Learn more about this WordPress theme framework.