The Hot Carousel Pro plugin shows the latest or the most important posts of the day. The Hot Scroller is a news ticker for breaking sports news and live results. Finally, the Hot Lightbox plugin creates slideshows of your images very easily. All those plugins are included in the WordPress sports theme package – Hot Sportal.
The theme is based on 100% tableless CSS code and it meets the W3C standards. The Sportal has a flexible layout. The width of the left and the right columns are parametrized, as well as the overall theme width. The order of the columns can be changed. So, you can make a layout like Left-Content-Right, Left-Right-Content or Content-Left-Right (default) from the theme parameters page.
WordPress sports theme comes in 5 pre-defined color styles. Furthermore, each color is easily customizable in the parameters. You can make infinite color combinations. Other elements included in theme are social icons and a collection of the sponsor logos. As you can see on the demo, in the vertical columns we put many widgets. There are video clips, tag cloud, sponsor banners and news feeds from local and external sources.
WordPress Sports Theme: Hot Sportal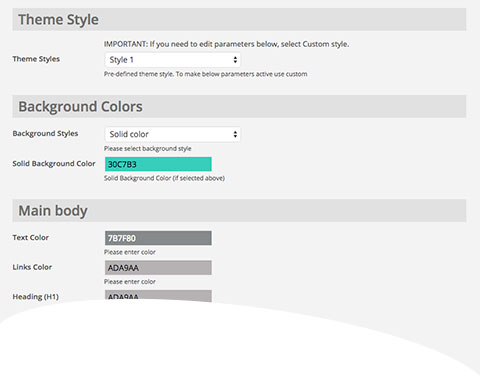 Well parametrized theme
All parameters available in this theme are located in a dedicated page of your WordPress Dashboard. You can access it from Appearance > Theme Options. Each theme has different set of options related to font and background colors, widths of the elements and features that can be enabled or disabled. From the Theme Options panel you can select active color style of the theme or create your own color combination.