The WordPress video theme Hot Rain is based on the latest version of Sparky Framework for WordPress. New version has many new features added. Therefore, this theme has support for the HTML5 elements. Those elements include header, footer, video, nav, etc. Rain theme design and UX are based on CSS3 and jQuery. Also, a new version of Sparky supports the popular Font Awesome collection of icons.
This theme contains several responsive WordPress plugins by HotThemes. These plugins are Hot Full Carousel, Hot Film Tape, Hot Slicebox (for slideshows) and Hot Maps (for Google Maps). All plugins are styled and configured for using with this theme. Many modern features that follow the contemporary web design practices are included in the responsive Hot Rain theme. We are trying to bring your sites to the new heights with this WordPress video theme. Full support for video backgrounds is included. You can simply change our demo video file with your file. Or you can use our video of rain shower on your site, if you like it.
Hot rain has 5 pre-defined color styles. All colors are easily customizable from the Sparky options (infinite color options).
WordPress Video Theme: Hot Rain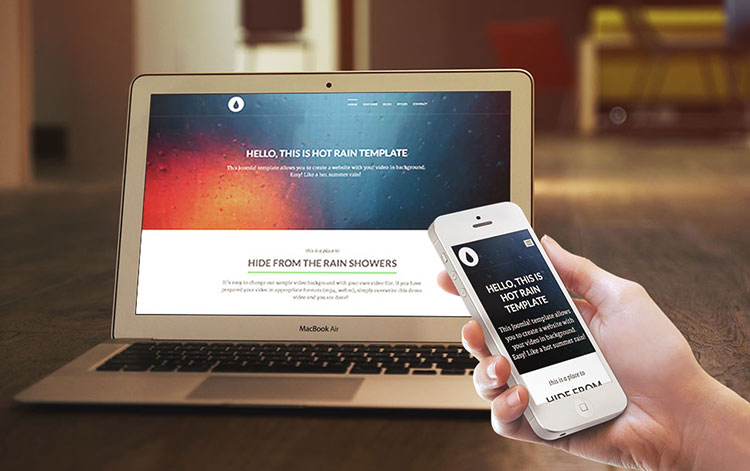 Responsive theme
Hot Wedding is a responsive WordPress theme. This means it will look good and optimized on all desktop and notebook computers, as well as mobile devices (tablets and smartphones)!
Drag and Drop Framework
Layout Builder is where you create layout for your website in few simple steps. Click "Add Row" button to make some rows. All widget positions and special elements are represented as cells. Drag some of them into the rows. Add specific name and/or class to any row to select it and style it through CSS. In the background, Sparky creates layout fully automatically according to the settings from the Layout Builder. Learn more about this WordPress theme framework.