It can have up to 2 levels of the submenu items. The home page of the WordPress menu slider theme is acting like the "intro" page to the deeper levels of your site. There are a lot of "flashy" effects (based on jQuery, not on Adobe Flash). The big images define the main areas of your website. This theme is 100% compatible with all devices. This includes those devices that doesn't support Adobe Flash (such as iPhone or iPad).
Using the HotStart installation method, you can copy our demo data directly on your server, and then just modify the site. The WordPress menu slider theme has 100% tableless CSS, and validated XHTML code. The width of the left and the right columns is parametrized. You can also change the overall theme width.
Features of WordPress Menu Slider: Hot Flashes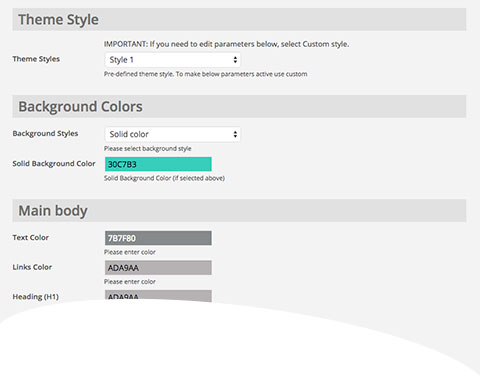 Well parametrized theme
All parameters available in this theme are located in a dedicated page of your WordPress Dashboard. You can access it from Appearance > Theme Options. Each theme has different set of options related to font and background colors, widths of the elements and features that can be enabled or disabled. From the Theme Options panel you can select active color style of the theme or create your own color combination.