Nowadays, it's much easier to create and maintain a business website. We have content management systems, such as WordPress. It allows us to maintain our website easily and independently. As your company grows, your website will follow it with presentation of the new products. You can also publish news about your company and the important events and updates.
The business owners will probably have to invest some money in order to bring some visitors to the company's website. Also, the visitors who decided to visit your site should not be just come-and-go people. The business website must have a way to keep them and make them come back over and over again. The first impression is important! So, if the visitor likes your product, he will wish to contact you immediately. WordPress themes for business should include the contact form in the prominent place on all pages. Also, keeping your site up-to-date is actually very easy with WordPress. This will convert your visitors into the regular clients.
Using WordPress together with WordPress themes for business can help you to represent your company online in a professional way.
WordPress Themes for Business: Hot Business Features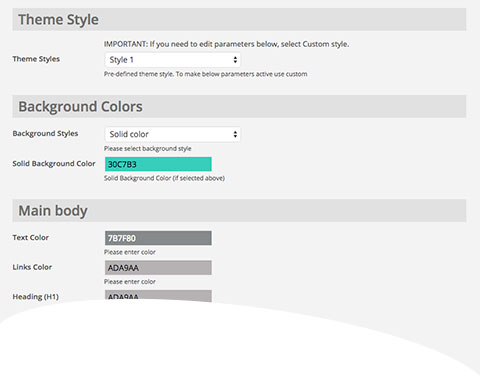 Well parametrized theme
All parameters available in this theme are located in a dedicated page of your WordPress Dashboard. You can access it from Appearance > Theme Options. Each theme has different set of options related to font and background colors, widths of the elements and features that can be enabled or disabled. From the Theme Options panel you can select active color style of the theme or create your own color combination.