All elements of the full screen WordPress theme, including images, fonts, menus, etc., are designed to perform well on all screen resolutions. A pleasurable user experience is something that Hot Bokeh would bring to your visitors, no matter how they are accessing your WordPress site.
The full screen WordPress theme can be used for development of websites for all purposes. Its design is clean and modern. But, at the same time, it's neutral. This theme comes with 10 (ten) different color variants. One of them would probably match your company's design guidelines or your personal taste.
This theme is equipped with several plugins by HotThemes. The main role on the home page is given to Hot Full Carousel – responsive carousel WordPress plugin. Beside this plugin, the theme also includes WordPress slideshow plugin – Hot Effects Rotator. It's good to add precise map on the contact page. That's why we included WordPress Google Maps plugin – Hot Maps. Finally, Lightbox plugin and Hot Gallery can be used for making photo presentations on your site. All these plugins are included without additional fees with the full screen WordPress theme.
This is a responsive theme. It's based on a valid and clean CSS code and powered by Sparky Framework for WordPress. All colors of the theme are easily customizable from the theme options. You have unlimited color options. This theme has the largest number of pre-defined color styles of all our themes! Customization of the theme's layout and adding/removing widget positions is easy. It's powered by Sparky's drag and drop Layout Editor. Change layout and element's dimensions easily wherever you need.
Specifics of the Hot Bokeh Theme (after installation)
Since this theme has an unusual feature (it occupies full screen space), there are some features specific for this theme. If you feel that text becomes too wide (on larger screens), you can use CSS3 columns. All you need to do is to wrap the entire page content inside DIV with class "twocols", in example:
<div class="twocols">
…content for your page here…
</div>
Features of the Full Screen WordPress Theme: Hot Bokeh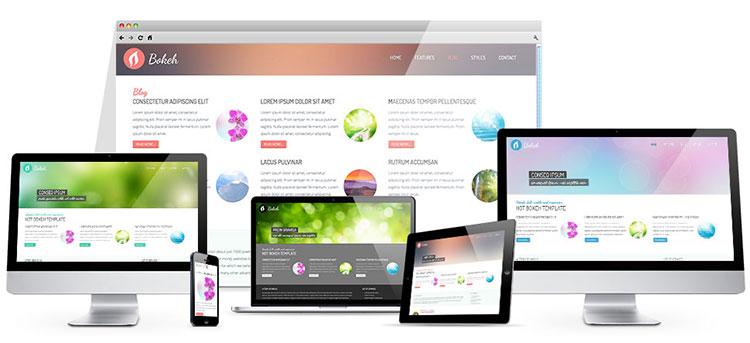 Responsive Theme
Hot Bokeh is a responsive WordPress theme. This means it will look good and optimized on all desktop and notebook computers, as well as mobile devices (tablets and smartphones)!
Drag and Drop Framework
Layout Builder is where you create layout for your website in few simple steps. Click "Add Row" button to make some rows. All widget positions and special elements are represented as cells. Drag some of them into the rows. Add specific name and/or class to any row to select it and style it through CSS. In the background, Sparky creates layout fully automatically according to the settings from the Layout Builder. Learn more about this WordPress theme framework.