If you prefer WordPress for your CMS, WordPress App theme can reduce the time needed for development of a modern responsive website for the application you or your company developed. It's based on a clean design, but it comes with many modern features and effects. Some of them are parallax scroll, image animations, floating top menu, etc. Beside these built-in features, it's powered by several plugins that you will get in the WordPress App theme package. One of these plugins, Hot Blocks, adds new blocks to the WordPress editor, such as page header, parallax scroll, etc.
You can create your own color combinations through the Sparky Framework's control panel. Also, from the same place, you can control the layout of the theme. Using a drag and drop user interface you can add more widget positions to the theme and other elements. Also, this theme is fully compatible with WordPress Customizer. You can control fonts (Google collection of 700+ free fonts), colors, menus, etc. and see the results live!
The background images of some sections of the WordPress App theme scrolls with a parallax effect. This is one of the interesting effects used in this theme. Make sure you visited our demo site and experienced the parallax scroll yourself. You can add more sections that use the parallax effect using Parallax block in Gutenberg editor. Last but not least, the top menu is floating to the top edge of the screen when user scrolls page down.
Features of the WordPress App Theme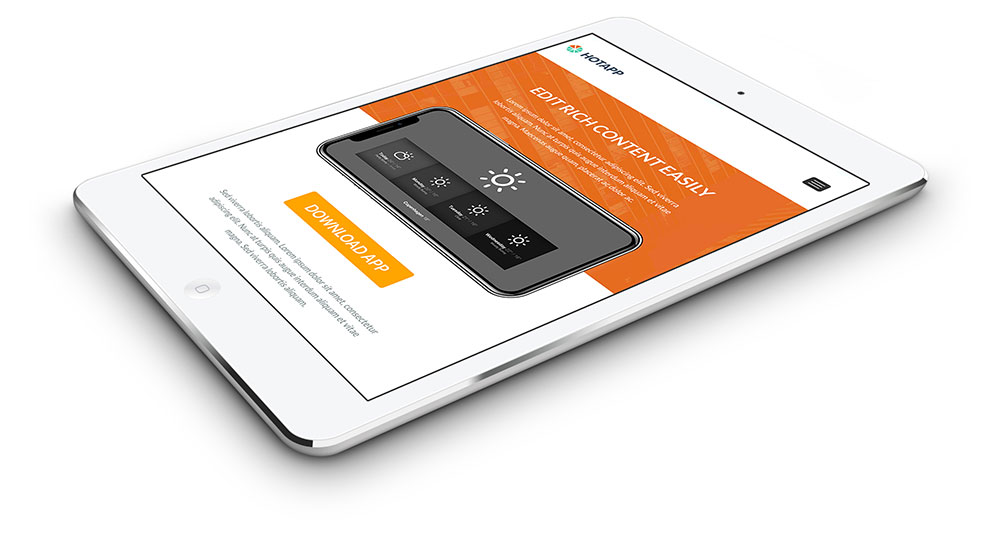 Responsive Theme
Hot App is a responsive WordPress app theme. This means it will look good and optimized on all desktop and notebook computers, as well as mobile devices (tablets and smartphones). The theme layout will be adapted to the screen size. The menu will be converted to button on smaller screens.