Print Shop is a responsive full site editing WordPress theme dedicated to print shops, online and offline design studios, pressrooms, and printing factories. This theme has a color scheme with deep blue and pinkish-red as the primary and secondary colors with strong contrasts. The colors are integrated into the block editor along with the fonts and other typography elements that you might need.
This FSE theme is fully compatible with WordPress 6.0 (and later). It allows you to edit all aspects of your website visually using the new full-site editor. No additional plugins are needed. All that you need is this theme and the latest WordPress version.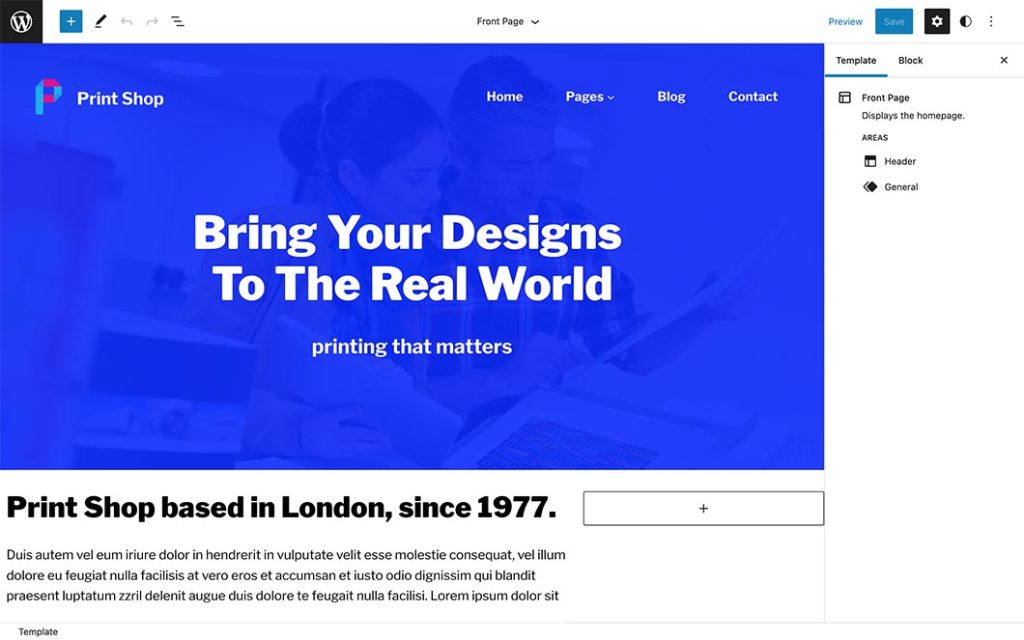 Full Site Editing Theme
Full site editing (FSE) is a modern WordPress feature that lets you edit all aspects of your website visually, without any additional plugins that are bloating your website unnecessarily. FSE lets you visually define your front page, page templates, archives, posts, etc.
Block Patterns Library
You are just one click away from including many block patterns in your pages and posts. Just include a predefined pattern, edit it and save it!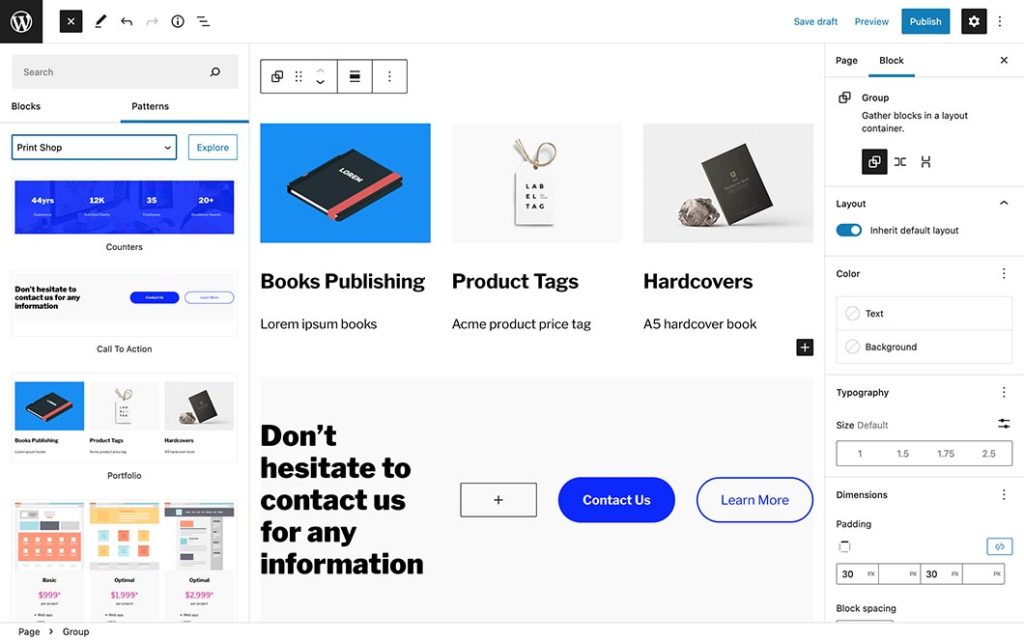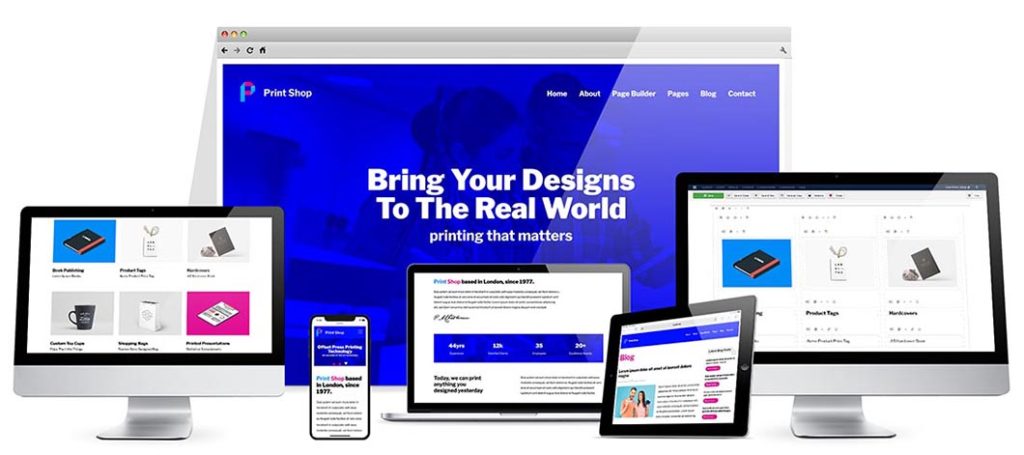 Responsive
Print Shop is a responsive WordPress theme. This means it will look good and optimized on all personal computers, as well as mobile devices. The menu will be converted to a button on smaller resolutions. It's a mobile-friendly theme and it's loading lightning fast!
Print Shop Theme with Block Patterns
This theme allows you to edit rich content easily using the new WordPress block editor. All demo posts and pages are made in this editor. Furthermore, we combined 7 containers that you can see on the theme demo into the block patterns. All that you need to include these patterns into your pages and posts is to select them from the patterns library.
After including any block pattern with a single click, you can start customizing it and replace demo text and images with your own website content.
Template Parts
The template part is the new feature of full site editing and it's supported by the Print Shop FSE theme. For this theme, we prepared 2 header variants as header template parts. You can see the big header on the home page and normal headers on the other pages.
Also, there are 2 footer variants implemented as footer template parts. The big footer includes textual blocks, an additional footer menu, and contact details, as well as the copyright message and social links. You can also use a simple footer that displays just the copyright message and social links.
Gutenberg Ready
Compatible with the new WordPress blocks editor (Gutenberg). All demo posts and pages are created with this editor and can be edited easily.
Demo Data
This theme is shipped with demo data. If you follow our simple instructions, you will get a pixel-perfect copy of our demo site.
Customer Support
Our products are well-documented, but if you run into the problems with theme installation or usage, simply post your question and our support staff will help.
Valid HTML and CSS
This theme is based on clean and valid HTML and CSS code. We tested it using the W3C validation tool to make sure it's 100% free of errors.
Photoshop PSD File
This theme is shipped with PSD files and fonts. If you need to modify our design or any part of the theme, it can be done in Photoshop, using the source files.
Localization
This theme is shipped with sets of .mo and .po files that can be used to translate the theme. Also, the theme works with RTL languages.
Responsive Top Menu
This theme has an integrated responsive top menu script with support for multiple levels. Sub levels are displayed as drop-down panes.
Always Up To Date
All themes found on this site are tested thoroughly using the latest WordPress version. Any discovered incompatibility issues will be fixed as soon as possible.