There's no better way to show political ideas and meet potential voters. During the election campaigns, every political party boosts its online activities. We believe this WordPress political theme can be an appropriate tool for the development of any political website or portal.
There's no better way to show the party's political ideas and to meet potential voters than making an attractive responsive website, usable on all devices that have Internet access.
Hot Politics is a responsive WordPress political theme based on Sparky Framework for WordPress. This framework allows you to control all aspects of the theme. Besides that, many specific features are included in this theme and they are all based on modern development techniques, such as CSS3 and jQuery. Interactive tabs and accordions help you to include more content in your site and save some space at the same time. Hot Film Tape is a responsive plugin that is integrated into this theme. The idea was to use this plugin to rotate some images of the party's leaders altogether with their political statements. Hot Lightbox is also included and it allows you to create slide shows. In this case, we put them as campaign photos widgets in the footer area. This theme also has integration with Facebook, as we believe that interactions with people over the social network is crucial for a successful campaign. You will also notice a video widget that opens any YouTube video in a pop-up window. This is a chance for an integration of the political party's video advertisement and the party's website. The contact forms are available as widgets published on all pages of the WordPress political theme and also as a dedicated page with an interactive map.
These are not all the features available in the WordPress political theme. There are even more, so we believe you will find it interesting to check the theme's live demo.
Features of the WordPress Political Theme
Responsive Theme
Hot Politics is a responsive WordPress theme. This means it will look good and optimized on all desktop and notebook computers, as well as mobile devices (tablets and smartphones)!
Drag and Drop Framework
Layout Builder is where you create a layout for your website in a few simple steps. Click the "Add Row" button to make some rows. All widget positions and special elements are represented as cells. Drag some of them into the rows. Add a specific name and/or class to any row to select it and style it through CSS. In the background, Sparky creates a layout fully automatically according to the settings from the Layout Builder. Learn more about this WordPress theme framework.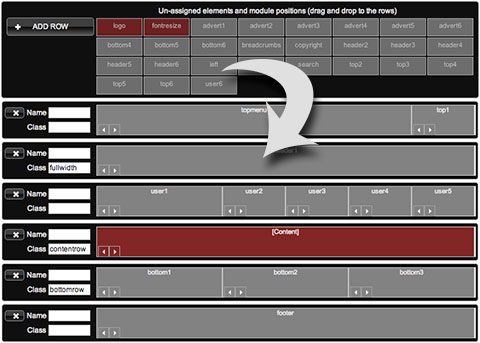 Demo Installer
This theme is shipped with demo data. If you follow our simple instructions and install the theme with demo data, you will get a pixel-perfect copy of our demo site.
Always Up To Date
All themes found on this site are tested thoroughly using the latest WordPress version. Any discovered incompatibility issues will be fixed as soon as possible.
Support That Cares
Our products are well-documented, but if you run into the problems with theme installation or usage, simply post your question and our support staff will help.
Valid HTML and CSS
This theme is based on clean and valid HTML and CSS code. We tested it using the W3C validation tool to make sure it's 100% free of errors.
Photoshop Files
This theme is shipped with PSD files and fonts. If you need to modify our design or any part of the theme, it can be done in Photoshop, using the source files.
Easier Localization
This theme is shipped with sets of .mo and .po files that can be used to translate the theme. Also, the theme works with RTL languages.
Plugins Included
All the plugins that you can see on the demo are included in the price. If you install the theme with demo data, all plugins will be installed as well.
22 Widget Positions
This theme contains a lot of positions where you can place your WordPress widgets. The detailed "map" of all widget positions is available in the theme options panel.
Top Menu
This theme has an integrated top menu script with support for multiple levels. Sub levels are displayed as drop-down panes. The menu script is based on jQuery.
Font Awesome
Support for Font Awesome collection of icons is incorporated in this theme. You can use the most popular vector icons collection for your projects.